Chicago Lawyers for Takata Airbag Recalls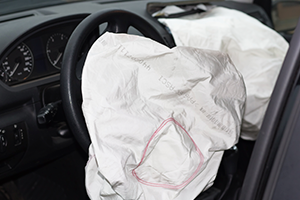 Lawyers Guiding Individuals Nationwide in Automobile Defect Claims
The Japanese company Takata is one of the largest suppliers of airbags to car manufacturers. Unfortunately, our Takata airbag lawyers know that many motorists have been killed by Takata's exploding airbags. Consumers complained of this defect as early as 2001, but for years the company denied that there were any defects in the airbags. In 2015, the company admitted that its airbags are defective. They may explode violently at deployment and can send shrapnel into passenger seats. Several deaths and many injuries have occurred in connection with Takata airbag deployment. Recalls have been issued, and the automobile manufacturer most affected is Honda. If you have been injured by a Takata airbag or another automobile defect, you should consult an experienced product liability attorney. Moll Law Group represents consumers nationwide and billions of dollars have been recovered in cases in which we were involved.
Establishing Accountability for Injuries Caused by Takata Airbags
In its 2015 statements, Takata admitted there are design flaws in the airbags. For example, propellant that is used to inflate the airbags can degrade over time, making it more likely to combust aggressively. Engineers for the company raised internal concerns 10 years ago that the explosive material used was sensitive to changes in temperature and moisture, but the company ignored their concerns. There are also leaks in some inflaters that allow moisture to get into the airbag over time. A former consultant to the manufacturer had previously urged the company to use a different leak method.
Design defects are one of three types of defects that may give rise to strict liability. Unlike manufacturing defects, they exist in every specimen of a particular product because the flaw lies within the intended plan for the product. A Takata airbag lawyer may be able to help you prevail in a design defect claim if there was a foreseeable risk posed by the airbag when manufactured as intended and used in a foreseeable manner. In many jurisdictions, a plaintiff can only establish there is a design defect if he or she proves there is some alternative design that is safer than the original design, that is just as economically feasible and useable as the original design, and that keeps the basic purpose behind the original design in spite of the alterations.
If a plaintiff is able to establish design defects, he or she can potentially recover compensatory damages from the manufacturer. Compensatory damages may include both economic and noneconomic damages. For example, in an exploding air bag case, economic damages are likely to include medical bills, lost income, and property damage. Emergency care may be necessary to treat the injuries, and subsequent medical care may also be needed. This will likely require the victim to take time off from work.
Noneconomic damages are intangible damages that may be harder to quantify and depend on the jury's subjective assessment of the damages that would naturally arise from a particular injury. They may include pain and suffering, scarring and disfigurement, and emotional anguish. For example, flying shrapnel may cause scars or disfigurement, and the value of these may require a complex calculation about how the victim's life has been altered or affected by the scar.
It appears, based on employee statements, that Takata knew of the risks but concealed them from consumers. If so, consumers may also be entitled to punitive damages. These are damages awarded to punish the defendant and deter similar conduct in the future.
Consult a Dedicated Takata Airbag Attorney
If you have been injured in a car installed with a Takata airbag, our product liability lawyers are available to guide you through the process of recovering compensation for your injuries. We represent consumers in states such as California, Florida, New York, Texas, Pennsylvania, Ohio, Tennessee, and Washington. Call us at 312-462-1700 or use our online form to schedule a free consultation with a Takata airbag attorney.