Toy Safety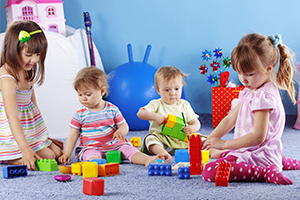 Child Injury Lawyers Representing Consumers Nationwide
When parents give toys to their children, they expect these toys to be safe. Unfortunately, our toy defect injury lawyers know that not all toys are safe or age-appropriate. The Consumer Product Safety Commission (CPSC) provides mandatory standards for toys. The Child Safety Protection Act also provides child safety and manufacturing standards, including mandatory warning labels for certain toys. In spite of these precautions, a child is treated in the emergency room for a toy-related injury once every three minutes, according to the researchers at the Center of Injury Research and Policy at Nationwide Children's Hospital. If your child is hurt while playing with a toy, you should consult the experienced child injury attorneys at Moll Law Group. We represent families nationwide.
Holding a Manufacturer Accountable for a Defective Toy
All toys that manufacturers intend for use by children who are 12 years old or under must be third-party tested and certified as compliant with federal safety standards. The manufacturer must identify the sections of the toys standards that apply to the toy and use a CPSC-accepted lab to test it. There are standards related to accessible edges, wires, nails, plastic film, toy substrate materials, pacifiers, markings on toy guns, stuffed toys, projectile toys, and many other aspects of toys marketed to those under the age of 12.
Children of different ages face risks of different kinds. For example, toddlers tend to put toys in their mouth and have a greater risk of choking on small parts. Older children have a higher risk of getting hurt on defective vehicles like wagons, tricycles, or scooters. Accordingly, the federal Child Safety Protection Act requires warning labels based partly on the age of the child a toy is targeted towards.
When there are small parts in toys, manufacturers are required to affix a choking hazard warning to the packaging, or the product if there is no packaging, indicating that the toy is not intended for those under three years old. When a child chokes on a product that is improperly labeled, the child's parents may be able to recover damages for the injuries suffered in a products liability lawsuit based on a failure to warn, or a marketing defect.
If you bring an action for injuries caused by a defective toy, your toy defect injury lawyer will need to show that there was a defect and that this defect caused your child's harm. There are three types of defects: manufacturing, design, and marketing. You may also need to establish other elements, depending on the theory used to seek damages. Available theories in a defective toy case include negligence, misrepresentation, strict liability, and breach of warranty. With negligence, for example, you need to prove the manufacturer's duty of care, a breach of duty, causation, and damages. However, in many cases, manufacturers can be held strictly liable for defects, meaning that you would only need to prove the defect and causation to hold the manufacturer liable.
Explore Your Options with an Experienced Toy Defect Injury Attorney
If your child has been hurt while playing with a toy that you believed was safe, the products liability lawyers at Moll Law Group are available to assist you in seeking damages. Our attorneys represent injured consumers nationwide, including in states such as California, Texas, Florida, New York, Pennsylvania, Ohio, and Michigan. Billions of dollars have been recovered in cases in which we were involved. Call us at 312-462-1700 or use our online form to set up a free consultation with a toy defect injury attorney.