High Chairs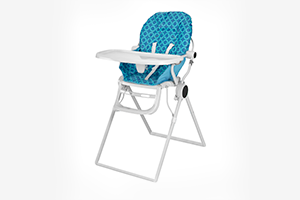 Lawyers Experienced in Pursuing Product Liability Claims
Most new parents assume that manufacturers have used the utmost care in designing and manufacturing the high chairs that they buy. However, many high chairs have been recalled due to manufacturing and design defects. These include inadequate stability that can cause tipping and result in a baby falling, defective locking mechanisms, and insufficient restraints. If your baby is injured due to a defective high chair, the high chair defect lawyers at Moll Law Group are available to represent you to recover compensation for your injuries from the manufacturer. Our child injury lawyers handle cases nationwide, and billions of dollars have been recovered in cases in which we were involved.
Holding a Manufacturer Accountable for Defective High Chairs
In order to recover damages in a product liability lawsuit, you need to establish that a product is defective rather than that it was misused in an unforeseeable way. There are three types of recognized defects: design defects, manufacturing defects, and marketing defects. In defective high chair cases, the defect is most likely one of design or manufacturing.
A design defect in the context of a defective high chair means that there is a flaw in the design that makes it unreasonably dangerous to a baby seated inside the high chair. Usually, it exists in all items of a product line and renders a product dangerous regardless of how well it is put together. For example, if the rear bracket was designed to be too thin to support the weight of the baby, this is most likely a design defect.
In contrast, a manufacturing defect exists when the design is sound, but there was a mistake in the manufacturing process that resulted in a product that is unreasonably dangerous. Generally, a high chair with a manufacturing defect is a one-off—only one or a few products are rendered unreasonably dangerous.
Most states will allow you to hold a manufacturer strictly liable for high chair defects. This means that you can hold the manufacturer (or others in the chain of distribution) responsible even if the manufacturer used reasonable care. However, in some states, your high chair defect lawyer will need to prove negligence, which means that the manufacturer's actions fell below the standard of care and thereby caused your baby's injuries.
If you are able to establish the elements of your claim, you may recover economic and noneconomic compensatory damages. The damages that are available may vary from state to state. Generally, economic damages for a defective high chair injury include emergency care, medical bills, out-of-pocket expenses, and other tangible expenses. Noneconomic damages may include pain and suffering and emotional anguish.
Explore Your Options with a High Chair Defect Attorney
You expect that manufacturers will use their best efforts to design and manufacture safe high chairs, and that if they detect a problem with a high chair, they will issue recalls. However, some manufacturers do not continue to monitor their products on the market, or they may conceal problems in order to avoid a public outcry. If your baby or toddler was injured due to a defective high chair, the product liability lawyers at Moll Law Group are available to pursue a claim for compensation against the responsible party on your behalf. We represent injured consumers throughout the nation, including in states such as California, Florida, New York, Texas, Pennsylvania, Ohio, and Michigan. Contact us via our online form or call us at 312-462-1700 to set up a free consultation with a high chair defect attorney.