Strollers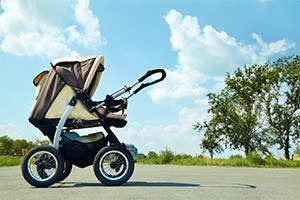 Product Liability Lawyers Pursuing Child Injury Claims Nationwide
Parents rely on strollers to transport their children safely. However, manufacturers sometimes design, manufacture, or market strollers improperly. In some cases, a manufacturer is aware of a defect but fails to issue a recall. A manufacturer's failure to warn or issue a recall can result in serious injuries to small children. Some common injuries from defective strollers include soft tissue injuries, amputations, sprained or broken ankles, head injuries, spinal cord injuries, broken noses, facial lacerations and scarring, eye injuries, and emotional trauma. If your child was injured while riding in a defective stroller, the stroller defect lawyers at Moll Law Group are available to bring a lawsuit on your behalf. Billions of dollars have been recovered in cases in which our child injury lawyers have been involved.
Seeking Compensation for a Defective Stroller
If you are bringing a product liability lawsuit as a parent of an injured child, you may sue the manufacturer and anyone else in the chain of distribution. There must be a defect in the stroller to sue. The defect can be one of manufacturing, design, or marketing. Usually in defective stroller cases, there is either a manufacturing defect or a design defect.
A manufacturing defect exists when a stroller is not made according to specifications. For example, if a screw is missing that would hold the seat in place, and a child falls out of the stroller because the piece is missing, there may be a manufacturing defect. A design defect exists when a stroller is made according to specifications, but there is an unreasonably dangerous flaw in the design itself. For example, if a stroller is designed so that a child's leg can be crushed by the folding mechanism while sitting inside it, the stroller likely has a defective design.
There are several different theories under which a stroller defect lawyer may be able to help you pursue compensation for your child, including strict liability, negligence, and breach of warranty. The theory that is usually most favorable to plaintiffs is strict liability. Under a strict liability theory, you need only prove that there is a defect and that the defect caused your child's injury. However, some states require plaintiffs to pursue damages under a theory of negligence. This theory requires, among other things, proof that the defendant's conduct breached the applicable standard of care.
If you are able to establish the elements of an appropriate theory of liability, you can recover compensatory damages, including medical expenses, rehabilitation and therapy, and modifications to a home or car to accommodate an injury. In cases in which a manufacturer knows of a defect and conceals it instead of warning consumers, it may be liable for punitive damages, also known as exemplary damages. These are damages awarded to punish egregious misconduct and deter similar conduct in the future.
Discuss Your Case with a Stroller Defect Attorney
If your child was injured by a defective stroller, our product liability lawyers are ready to assert your rights by taking legal action. We represent injured children and their families throughout the U.S., including in states such as Florida, Illinois, Texas, California, New York, Ohio, Michigan, Arizona, and Pennsylvania. Call us at 312-462-1700 or use our online form to set up a free consultation with a stroller defect attorney.