Walkers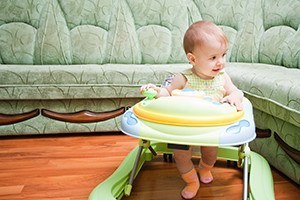 Product Liability Attorneys Helping Injured Children Nationwide
Parents often see baby walkers as a useful way to move their children from place to place in the house and help babies who want to move do so. However, each year, thousands of children under the age of 15 months suffer baby walker injuries that require hospitalization. Walkers are the nursery products that have caused the most injuries. In some cases, walkers are recalled, but most parents of babies are sleep-deprived and may not be monitoring recalls or consumer safety issues. A lawsuit is often the only way to obtain justice if your child has been hurt due to a defective walker. The walker defect lawyers at Moll Law Group represent accident victims across the nation. Billions of dollars have been secured in cases in which our child injury attorneys have been involved.
Seeking Damages for a Defective Walker
Walkers can put babies at risk by tipping, failing to provide adequate restraints, or falling down steps. In 1997, the Consumer Product Safety Commission (CPSC) mandated that all walkers manufactured after June 30, 1997 be designed with built-in gripping mechanisms and be wide enough not to go through a standard doorway.
In spite of this rule, walkers continue to pose a threat to child safety. Sometimes the overall design is poor, while at other times, certain restraints or latches on the product are inadequately manufactured or designed. In some cases, there are insufficient warnings. If a walker is defectively designed, manufactured, or marketed, it may be possible to bring a product liability lawsuit with the assistance of a walker defect lawyer against the manufacturer and anyone in the chain of distribution.
Baby walker lawsuits may be based on any of several different theories: negligence, strict liability, or breach of warranty. Each theory requires a plaintiff to prove different elements. Generally, strict liability is the most favorable to plaintiffs. When strict liability applies, a plaintiff needs to prove that there is a defect in the product and that the defect caused an injury. For example, in a state where strict liability applies, a manufacturer likely could be held accountable if a walker had ineffective restraints that constituted a defect, and the ineffective restraints caused a baby to fall down and break a leg.
In certain states, however, a plaintiff will need to prove negligence, which can be more complicated. In a negligence lawsuit, a plaintiff must prove a duty of care, a breach of duty, actual and proximate (legal) causation, and actual damages. In other words, what a manufacturer did or did not do in designing, manufacturing, and marketing the product can make a difference to whether the plaintiff recovers damages. The main inquiry will focus on whether the manufacturer met a standard of reasonable care, determined by what similarly situated parties in the same industry would have done.
Consult an Experienced Walker Defect Attorney
If you can prove a product liability case, you may recover compensatory damages for your child, including medical expenses, physical therapy, and any necessary modifications to your home. If your child was injured due to a defective walker, our product liability attorneys are available to file a lawsuit on your behalf. Moll Law Group represents injured individuals and their families across the U.S., including in states such as Florida, Texas, California, New York, Ohio, Michigan, and Pennsylvania. Call us at 312-462-1700 or use our online form to set up a free consultation with a walker defect attorney.