Magnets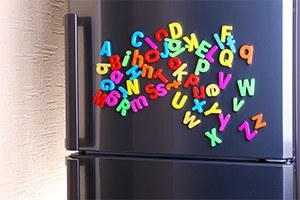 Child Injury Lawyers Serving Victims Nationwide
Toys containing magnets have hidden dangers. Although large-scale recalls of dangerous toys have occurred, as our magnet injury lawyers are aware, these types of toys continue to appear on the shelves of toy stores. Often, magnet toys are plastic pieces that have tiny magnets embedded inside them. Since they are so small, they can fall out of the toy and not be noticed, and they may be ingested by a toddler or a small child. There is no warning that something is wrong because the magnets are so small. A swallowed magnet can damage the intestines, and if more than one is swallowed, they will be attracted to each other and may cause perforations, gangrene, or even death. If your baby has been hurt or killed due to magnet toys, the child injury attorneys at Moll Law Group are available to represent you in a claim or lawsuit against the manufacturer. Our product liability lawyers handle cases throughout the country, and billions of dollars have been recovered in cases in which we have been involved.
Establishing Liability for Defective Magnets
The Consumer Product Safety Commission (CPSC) has the power to require that children's products comply with applicable product safety rules and be tested for compliance. However, it cannot test every toy. It is now common for labels on children's toys to contain warnings about choking hazards or lead pain. However, there is no standardized warning required for a potential hazard like magnets. Some, but not all, toy companies use independent labs to test toys for compliance with ASTM specifications before selling them.
Accordingly, some defective magnet toys are sold, and parents should be on the lookout for potential hazards. Three types of dangerous defects may arise in a product liability lawsuit: manufacturing defects, design defects, and marketing defects. In many cases, a defective magnet case will either be a design defect case or a marketing defect case.
A toy company may be held liable by a magnet injury lawyer for a design defect if there is a foreseeable risk of injury when the toy was manufactured as intended and used for its intended purposes. Often, plaintiffs also need to prove that the foreseeable risk could have been reduced or avoided by adopting a reasonable alternative design that was feasible and still useful at the time the toy was being designed.
Marketing defect cases are also known as failure to warn cases. A product may be dangerously defective if it does not have adequate instructions or warnings in connection with foreseeable risks of harm that could have been reduced or avoided by using reasonable instructions or warnings, and omitting these instructions or warnings makes the product unreasonably unsafe. The manufacturer is supposed to warn of hidden dangers, and it is supposed to provide adequate instructions about how to use a product so that dangers can be avoided. Thus, for example, a magnet toy can be dangerously defective for failing to warn parents that magnets inside the toy, when swallowed, can cause intestinal blockage and other internal damage, even if there are no obvious signs of choking.
Consult an Experienced Magnet Injury Attorney
As a parent, you may expect that toy manufacturers will have their toys tested so that they can be made safe for children, or at least so that adequate warnings can be drawn up. However, not all toy manufacturers put child safety at a premium. If your child was injured due to a defective magnet toy, the magnet injury attorneys at Moll Law Group are available to bring a product liability claim or lawsuit on your behalf. We represent people nationwide, including in states like California, Florida, New York, Texas, Pennsylvania, Ohio, and Michigan. Contact us via our online form or call us at 312-462-1700 to set up a free consultation with a product liability attorney.