Brachial Plexus, Erb's Palsy and Klumpke's Paralysis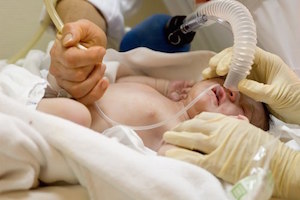 Birth Injury Attorneys Representing Chicago Families
Birth injuries can be devastating and affect the rest of a baby's life. For many parents around the nation, these injuries have financial costs far beyond the parents' ability to provide. Brachial plexus injuries, Erb's palsy, and Klumpke's paralysis are different types of serious nerve injuries that occur in one out of every thousand deliveries. For example, the brachial plexus includes several nerve groups that extend from the spinal cord to the shoulders, arms, fingers, and wrists, and that control sensation in these body parts. A Chicago brachial plexus lawyer can help you seek compensation if your child suffers an injury to their nerves in that area that was caused by a failure to use reasonable care during delivery. If your child suffers harm due to a brachial plexus injury, Erb's palsy, or Klumpke's paralysis, the birth injury lawyers at Moll Law Group are available to help you seek compensation. Billions of dollars have been recovered in cases in which we have been involved.
Liability for Brachial Plexus Injuries, Erb's Palsy, or Klumpke's Paralysis
Erb's palsy arises out of damage to the upper C5 and C6 nerves, while Klumpke's paralysis involves damage to the lower C8 and T1 nerves. Brachial plexus injuries, Erb's palsy, and Klumpke's paralysis are usually caused by improper delivery and are often diagnosed by a child's pediatrician after noticing a baby's weakness.
For example, if a baby's shoulder becomes lodged behind the mother's pubic bone, the contractions of a natural delivery will put pressure on the baby's neck. This can be fatal or result in brachial plexus nerve damage. Obstetricians are trained to perform specific procedures in a certain order to protect the baby, starting with the McRoberts Maneuver. In this maneuver, a mother's legs are bent towards her chest, widening the pelvis and flatting the lower back spine. Potential later steps include a Cesarean section and cutting a mother's pubic bone to release a baby's shoulders. In about one out of every 100 births, babies get stuck, and certain risk factors (such as gestational diabetes) increase the likelihood of these risks. However, preparedness for emergencies is a critical part of an obstetrician's job.
These injuries can be treated with surgeries or physical therapy shortly after birth. In some cases, brachial plexus injuries resolve in half a year. However, the bills can be expensive for any of these injuries, and in some cases, the injuries are permanent and require later counseling.
Birth injuries caused by medical malpractice can be the subject of a lawsuit. A brachial plexus attorney can help a Chicago family try to prove that a doctor's failure to abide by the standard of care (as defined by what other reasonable doctors in the same specialty would have done in the same circumstances) caused the baby's injuries and resulted in damages. For example, if the obstetrician failed to follow the appropriate procedures for an emergency in which the baby's shoulder lodged behind the pubic bone, resulting in a brachial plexus injury, the doctor's actions may have fallen below the standard of care. Similarly, if an obstetrician failed to prepare for the possibility of a baby who was too big to make it through the birth canal, when the mother had gestational diabetes and the baby appeared to be large on ultrasounds, this might be a breach in the standard of care.
As a parent, you may bring a lawsuit to recover compensatory damages as an infant's guardian. You may be able to recover medical costs, including expenses for physical therapy or surgery, as well as pain and suffering and loss of enjoyment.
Discuss a Brachial Plexus Case with a Chicago Lawyer
If your infant was diagnosed with a brachial plexus injury, Erb's palsy, or Klumpke's paralysis, the Chicago brachial plexus attorneys at Moll Law Group are available to help you pursue compensation from any health care provider that was responsible. Our firm represents injured individuals in Wheaton, Schaumburg, Naperville, and throughout Cook County. Call us at 312-462-1700 or complete our online form to schedule a free consultation with a medical malpractice attorney.