Cesarean Section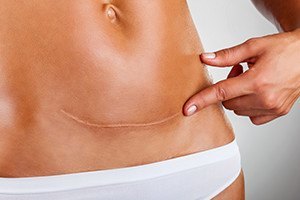 Birth Injury Lawyers Helping Chicago Families
Many deliveries are performed by Cesarean sections (C-sections). Some reasons why C-sections are performed include placental problems, fetal distress, preeclampsia, multiples, failure to progress during labor, breech positioning of the fetus, and uterine rupture. While most C-sections do not result in birth injuries to newborns, some do. Common problems when they occur can include fetal lacerations, breathing difficulties, and anesthesia injuries. Sometimes a C-section is indicated but is delayed, resulting in physical developmental delays, a lack of oxygen that can cause brain damage, and other injuries. You should contact a Chicago cesearean section attorney if your newborn suffers birth injuries due to an improper or delayed Cesarean section. The birth injury attorneys at Moll Law Group are available to help you pursue compensation so that you can obtain appropriate treatment for your child.
Holding a Health Care Provider Accountable for Injuries Caused by a C-Section
Certain injuries caused by a C-section can lead to many other health problems, including fractures, cervical cord injuries, Erb's palsy, infections, or respiratory distress syndrome. Similarly, when doctors fail to schedule a C-section in spite of warning signs that a vaginal delivery will not go well, other birth injuries may occur. In some cases, anesthesia injuries like blood clots or surgical injuries like infections may affect the mother's health.
New mothers expect the delivery of their baby to go well. Unfortunately, doctors do make mistakes. Parents who bring a claim for birth injuries arising out of a C-section or a failure to perform a C-section on behalf of their newborn will need to prove medical malpractice. This may be done by establishing the accepted standard of care in connection with C-sections under similar circumstances, a health care provider's breach of the standard of care, causation connecting the breach to the baby's injuries, and actual damages. In order to recover compensation, the causation between decisions made during the C-section process and the baby's injuries must be proven with a reasonable degree of medical certainty, such that more likely than not a doctor or nurse's negligence caused the injuries.
It is almost always necessary for a cesarean section lawyer in Chicago to retain experts in birth injury cases. Generally, someone is able to testify as an expert if his or her experience and qualifications give that person knowledge that most laypeople do not have, and the testimony that is expected to be given will help the trier of fact come to conclusions about material aspects of the case.
Usually, the expert chosen by a plaintiff is someone who is licensed and specializes in the same area as the defendant. For example, if an anesthesia error is at issue, the expert may be an anesthesiologist. If there is a surgical error at issue, the appropriate expert for the plaintiff's case may be a board-certified obstetrician. In some cases, such as malpractice that results in both birth injuries and maternal injuries, it may be necessary to retain multiple experts.
Explore Your Options with a Cesarean Section Attorney in the Chicago Area
If your newborn suffered injuries during a Cesarean section or because a C-section was not performed, the Chicago cesarean section lawyers at Moll Law Group are available to help you pursue compensation. Billions of dollars have been recovered in cases in which we have been involved. Our firm represents people in Wheaton, Naperville, and Schaumburg, as well as communities across Cook County. Call us at 312-462-1700 or complete our online form to schedule a free consultation with a medical malpractice attorney.