Shoulder Dystocia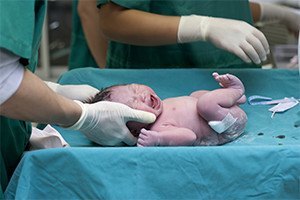 Chicago Attorneys Helping Birth Injury Victims
Health care providers often discover shoulder dystocia only after labor has already started. Shoulder dystocia is a condition in which the baby's head is being delivered through the vagina, but the shoulders remain stuck in the mother's body, triggering serious risks for the baby as well as the mother. In some cases, it is the result of macrosomia (when the baby is very large), but if that is the case most doctors will advise patients to obtain a cesarean section rather than have a vaginal delivery. You should consult a Chicago shoulder dystocia lawyer if your baby suffers injuries due to shoulder dystocia as a result of a health care provider's error. The birth injury lawyers at Moll Law Group are available to help you recover compensation.
Liability for Shoulder Dystocia
Pregnant women are at risk for their babies suffering shoulder dystocia when they have gestational diabetes, are carrying multiples, suffer from obesity, have induced labor, obtain an epidural, or have a provider who uses tools like a vacuum or forceps to help along the baby's delivery. However, shoulder dystocia can also happen without risk factors. Obstetricians are taught various techniques by which to deliver a baby safely even if its shoulders get stuck, including applying pressure to the lower belly, pressing a mother's thighs into her belly, cutting a longer incision for an episiotomy, or turning the baby's shoulder while it is being delivered.
In many cases, there is no permanent damage from shoulder dystocia, but sometimes a baby suffers injuries to his or her nerves, or the lack of oxygen causes brain damage or death. There may be maternal injuries as well, such as excessive bleeding or tearing of the uterus, vagina, or cervix.
In order to establish medical malpractice and recover compensation for your child's birth injuries, a shoulder dystocia attorney in Chicago will need to prove each of these elements: the accepted standard of care in connection with shoulder dystocia, a breach of the standard of care, proximate causation, and actual damages. Proximate causation simply means legal cause, or that the injuries were a foreseeable result of the breach.
If you are able to establish liability for birth injuries, you may recover compensatory damages on behalf of your newborn. This can be vital for parents who face unexpected medical bills in connection with serious injuries. Some babies who suffer brain or nerve damage may need intensive treatments and therapies, and in many cases, a medical malpractice claim is the only way to obtain the economic compensation necessary to pay for these. In many states, there is a cap on noneconomic damages (more subjective damages like pain and suffering) in medical malpractice cases. In 2010, however, the Illinois Supreme Court found the state's noneconomic damages cap for medical malpractice cases to be unconstitutional, so it no longer applies.
Consult an Experienced Shoulder Dystocia Lawyer in Chicago
If your newborn suffered shoulder dystocia injuries, or you suffered maternal injuries as a result of this condition, the Chicago shoulder dystocia attorneys at Moll Law Group are available to help you recover compensation for your injuries. Billions of dollars have been recovered in cases in which we have been involved. We assist people in Wheaton, Schaumburg, Naperville, and communities throughout Cook County. Call us at 312-462-1700 or complete our online form to schedule a free consultation with a medical malpractice attorney.