Facial Palsy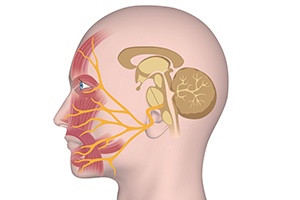 Knowledgeable Birth Injury Lawyers Serving Chicago and Beyond
Facial palsy, which results in the loss of controlled muscle movements in the face, may happen as a result of birth trauma. An infant's facial nerve may be injured just before or during a difficult delivery. In some cases, it is a result of a doctor's improper use of forceps. At other times, it is a result of a large baby, the use of an epidural, or the medication used to cause labor and stronger contractions. You may need to consult a Chicago facial palsy attorney if you suspect that medical malpractice was the cause of your child's facial palsy. The birth injury attorneys at Moll Law Group can help you assert your right to compensation.
Holding a Health Care Provider Accountable for Facial Palsy
Commonly, facial palsy due to nerve trauma affects the muscles around the lip, which are controlled by the lower part of the facial nerve. You may notice the unevenness when your child is crying. Moreover, other symptoms include no movement on one or both sides of the face, an eyelid that does not close, or a mouth that does not move down the same way while an infant is crying. Typically, this condition may be diagnosed with a physical exam, and it is often diagnosed when the infant is in the hospital, although a mild case may not be noticed immediately. In most situations, infants are monitored to determine whether the paralysis resolves on its own within a few months. However, in some cases, permanent paralysis occurs.
Permanent facial palsy may have significant consequences on your child's life, including emotional trauma when they get older. Sometimes the damage extends to the eye, resulting in blindness. A facial palsy lawyer in Chicago can evaluate your case to determine whether the facial palsy could have been prevented.
To establish liability, we will need to prove that your obstetrician or another health care provider violated the accepted standards and practices of the medical community in connection with an aspect of your pregnancy or delivery, thereby causing your child's facial palsy. We will retain a credible expert even before bringing a lawsuit to make sure that you have a legitimate claim and to complete the presuit requirements in Illinois. The expert will be expected to testify on the standard of care at issue and causation.
If liability is established, you likely will be able to recover compensation. This may include tangible damages, such as medical costs and therapy, as well as noneconomic damages like pain and suffering and loss of enjoyment. Someone with lifelong severe facial palsy may experience considerable mental anguish and other emotional effects as a result of not being able to move their face or being blind. The precise elements of compensation that may be available will depend on the facts of your case and which types of damages the jury believes would reasonably flow from facial palsy in your particular situation.
Explore Your Options with a Chicago Attorney Skilled in Facial Palsy Cases
If your baby suffers from preventable facial palsy, you may be entitled to compensation. The Chicago facial palsy lawyers at Moll Law Group are ready to assist you in bringing a lawsuit if appropriate. Our firm represents people in Naperville, Schaumburg, Wheaton, and communities throughout Cook County. Billions of dollars have been recovered in cases in which our firm has been involved. Call us at 312-462-1700 or submit our contact form to arrange a free consultation with a medical malpractice attorney.