Nuchal Cord Injuries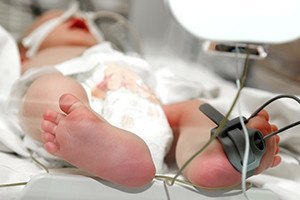 Chicago Attorneys Serving Medical Malpractice Victims
An umbilical cord is crucial to a fetus' survival. The cord supplies the necessary nutrients and oxygen from a mother's blood to an infant, and it also eliminates waste. A nuchal cord exists if an umbilical cord is coiled around an infant's neck, either in a single cord or multiple cords. Nuchal cords happen more often with male infants and are often associated with twins, excessive amniotic fluid, or large infant size. When nuchal cords are not treated, infants may suffer as a result of decreased oxygen and blood flow, decreased fetal development, and fetal heart rate abnormalities. You should contact a Chicago nuchal cord injury lawyer if your baby is hurt as a result of an untreated nuchal cord. The birth injury lawyers at Moll Law Group are available to help.
Bringing a Birth Injury Claim Based on Nuchal Cord Problems
Nuchal cords are common during birth, and often they do not cause harm to babies. However, your doctor is supposed to monitor your fetus' condition to ensure he or she receives enough oxygen. An ultrasound or sonogram can display a nuchal cord, alerting a doctor to a change in fetal heart rate. If a fetus is in distress and at risk for hypoxia during labor, for example, a reasonable doctor often performs a C-section to get the fetus out quickly. A failure to perform this C-section can cause cerebral palsy or another brain injury.
When doctors fail to see or address nuchal cords and oxygen deprivation, this failure may constitute medical malpractice. In order to recover compensation for your baby's birth injury, you will need to establish the standard of care of similar doctors in connection with nuchal cords, your doctor's breach of the established standard of care, proximate (legal) causation, and actual damages.
Brain damage from hypoxia may require lifelong care and change the lives of the parents and everyone else in a baby's family. Compensation that a nuchal cord injury attorney in Chicago may be able to pursue in a birth injury case may include economic and non-economic forms of harm, including the cost of the baby's lifelong care and the emotional distress caused to the parents.
In Illinois and many other states that have been subject to tort reform, there are numerous procedural requirements associated with birth injury and other medical malpractice cases. For example, your attorney will need to consult with an expert and submit a report and affidavit from the expert attesting to the meritorious nature of your birth injury claim. The expert should be the same type of doctor as the defendant.
In most Illinois medical malpractice cases, you have up to two years from the date you knew or should have known there was an injury to file suit. However, there is a different statute for children, who have up to eight years to file a medical malpractice case as long as the case is filed by the time they are 22.
Contact an Experienced Nuchal Cord Injury Lawyer in Chicago
If your baby suffers this type of harm, the Chicago nuchal cord injury attorneys at Moll Law Group are available to file suit on behalf of your child and you. Our firm represents people in Naperville, Schaumburg, Wheaton, and throughout Cook County. Billions of dollars have been recovered in cases in which we were involved. Call us at 312-462-1700 or complete our online form to schedule a free consultation with a medical malpractice attorney.