Preterm Birth, Prematurity, and Preemies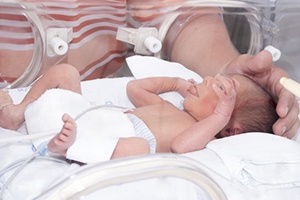 Chicago Attorneys Assisting Birth Injury Victims
Premature babies are those who are born before 37 weeks. They often have more immediate and long-term health problems. The earlier they are born, the more likely they will have serious health problems. Some preemies need to spend time in the hospital neonatal intensive care unit (NICU), and in some cases, they may need to stay in the hospital longer than a full term baby would. Advances in medicine have reduced many of the problems associated with being born preterm, but birth injuries do still occur. If your baby was harmed as part of a preterm birth, you may be entitled to compensation. The Chicago preterm birth injury lawyers at Moll Law Group are available to review your case and seek compensation for your injuries. Billions of dollars have been recovered in cases in which we have been involved.
Preterm Birth, Prematurity, and Preemies
Premature babies are more likely to suffer from respiratory distress syndrome, apnea, intraventricular hemorrhage, necrotizing enterocolitis, patent ductus arteriosis, retinopathy of prematurity, anemia, bronchopulmonary dysplasia, and infections like pneumonia or meningitis. They may suffer from complications such as jaundice, hearing loss, vision loss, cerebral palsy, or developmental delays.
There are numerous reasons why a baby might need to be delivered prematurely. If a doctor's negligence contributes to or causes the preterm birth, you may be able to sue the doctor and hold him or her responsible for any resulting health problems.
Numerous risk factors may increase the risk of preterm birth, including carrying multiples, ineffectual cervix, an infection, bacterial vaginosis, untreated urinary tract infection, placenta previa, gestational diabetes, preeclampsia, an STD, kidney disease, and clotting disorders. If you have risk factors, your doctor is supposed to monitor you more closely. A failure to do so that results in a preterm birth and associated serious health problems may be medical malpractice. A preterm birth injury attorney can help Chicago families take legal action when this happens.
Not all medical mistakes are considered malpractice, however. To prove medical malpractice, you will need to show that the obstetrician (or another health care professional) breached the standard of care and thereby caused an infant's birth injuries and health problems. The standard of care with regard to a particular patient and her fetus may vary depending on the patient's medical history. Generally, however, doctors should observe signs of preterm labor, suture an ineffectual cervix, prescribe steroid injections to accelerate baby lung and brain development if preterm labor is threatened, and prescribe other appropriate medications to slow labor.
Before filing a birth injury lawsuit, your attorney will need to consult an experienced and qualified obstetrician in order to determine what a reasonable doctor would have done in the same situation with a similar patient. The obstetrician's report and an affidavit known as a certificate of merit will need to be filed with your complaint. Credible expert testimony regarding the standard of care and an obstetrician's breach of this standard are critical in birth injury cases and may have a significant impact on whether you recover compensation.
Enlist a Preterm Birth Injury Lawyer in Chicago to Protect Your Rights
In many cases, the only way to hold a doctor accountable for serious harm to your baby is by filing suit. If your baby was hurt due to a preterm birth that should have been handled differently, the Chicago preterm birth injury attorneys at Moll Law Group can advocate for your right to compensation. Our firm represents people in Naperville, Schaumburg, Wheaton, and communities across Cook County. Contact us online or call us at 312-462-1700 to arrange a free consultation with a medical malpractice attorney.