Post Term Pregnancies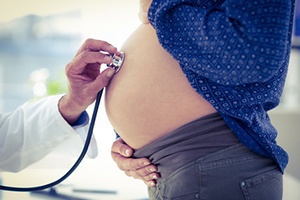 Birth Injury Attorneys Advocating for Chicago Families
A normal gestation period is 40 weeks. A post term pregnancy is one that lasts longer than 42 weeks. Post term pregnancies are associated with fetal and maternal complications, as are pre term deliveries, so most doctors try to make sure that an infant is delivered as close to the due date as he or she can be. Sometimes post term pregnancies occur because the conception date is miscalculated. Doctors are supposed to perform an ultrasound in the first half of the pregnancy to make sure that they know an estimated due date. However, sometimes maternal obesity, sulfatase deficiency, or anencephaly may make it difficult to accurately date the pregnancy. If your baby suffers birth injuries due to a post term pregnancy, the Chicago birth injury lawyers at Moll Law Group are ready to help you seek compensation. Billions of dollars have been recovered in cases in which we have been involved.
Pursuing a Claim for Injuries Caused by Post Term Pregnancy Complications
Some complications associated with post term pregnancy are fetal macrosomia, placental insufficiency, and meconium aspiration. Fetal macrosomia occurs when an infant is over eight pounds, 13 ounces at the time of birth. Mothers may be at risk of suffering uterine ruptures or excessive bleeding as a result of fetal macrosomia.
Placental insufficiency exists if the placenta cannot deliver adequate oxygen and nutrients to the infant. Generally, a placenta reaches its maximum size at 37 weeks, and its functions start to reduce afterward, which may affect a baby. The baby is put at risk for oxygen deprivation that could lead to cerebral palsy and other cognitive issues.
Meconium aspiration occurs if an infant inhales amniotic fluid or meconium (the infant's own waste) shortly after birth. Post term infants are more likely to have bowel movements while in utero, and if they inhale substances, they may suffer lung infection, lung inflammation, or persistent pulmonary hypertension.
Proper treatment may help prevent all of these risks. An obstetrician should be monitoring a pregnant woman closely to reduce the risks associated with a post term pregnancy. An obstetrician or another health care provider may be held liable for medical malpractice if he or she fails to meet the standard of care, and this failure causes birth injuries. The mother's age and the specific details of the pregnancy may affect the standard of care. For example, a mother with gestational diabetes may need particularly close monitoring in connection with a post term pregnancy and the functioning of the placenta in connection with the fetus.
Each state has its own medical malpractice rules. Under Illinois malpractice law, you have up to two years from the date that you knew or should have known about an injury to file a lawsuit against the obstetrician or other health care provider. However, people under the age of 18 have up to eight years to file a lawsuit, as long as the case is filed before the patient turns 22. A plaintiff must file a certificate of merit along with the initial complaint. This is an affidavit stating that the plaintiff's attorney has consulted and reviewed the facts with a health care professional who is knowledgeable in the relevant medical issues, practices or teaches in the area of obstetrics, and is qualified to provide opinions about a post term pregnancy. The health care professional must provide a written report to be attached to the complaint, which finds that there is a reasonable and meritorious basis for filing suit.
Enlist an Experienced Birth Injury Lawyer in Chicago
To be sure that your attorney has enough time to properly review your case with a health care professional, you should seek legal guidance as soon as you realize that your baby suffered injuries during a post term pregnancy. The Chicago attorneys at Moll Law Group are available to review your case and seek compensation for your injuries. We assist people in Naperville, Schaumburg, Wheaton, and communities throughout Cook County. You can contact us online or call us at 312-462-1700 to set up a free consultation with a medical malpractice attorney.