Intrauterine Growth Retardation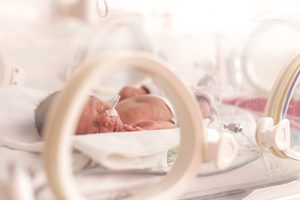 Birth Injury Lawyers Serving the Chicago Area
At Moll Law Group, our Chicago birth injury attorneys are available to assist you in recovering compensation if your baby suffers from harm due to intrauterine growth retardation. Intrauterine growth retardation or restriction (IUGR) is a condition in which infants fail to grow as expected during their mothers' pregnancies, weighing less than the 10th percentile for the gestational age. Generally, their abdominal circumferences are less than the 2.5th percentile. Doctors are supposed to monitor a baby's growth during gestation in order to detect IUGR because these infants may have serious labor and delivery complications. The most serious issue that may arise is a stillborn birth, which may occur if an infant's weight is under the 5th percentile.
Holding a Doctor Accountable for Intrauterine Growth Retardation
Some reasons why an infant may develop IUGR include preeclampsia, placental abnormalities, maternal infections like toxoplasmosis, chromosomal defects, malnutrition, diabetes, smoking or drug use during pregnancy, and carrying twins. The prescription medication Depakote, which is used to treat epilepsy and bipolar disorder, carries a risk of causing IUGR (as well as spina bifida and neural tube malformation) when it is taken during a pregnancy.
Often, infants with IUGR must be delivered by C-section because a normal delivery is too risky. However, a C-section delivery also carries a risk of birth injuries and breathing problems. IUGR is associated with jaundice, cerebral palsy, learning disabilities, and low blood sugar. However, it can be treated and reversed in most cases when it is caught early enough. A doctor needs to conduct Doppler flow studies and monitor the fetal heart rate to try to figure out why IUGR has occurred. Low doses of aspirin and bed rest are used to treat IUGR. However, in severe cases, it may be necessary to induce labor early.
When an infant does not receive adequate nutrients in utero, there is a chance of fetal death or a stillbirth. When a doctor fails to catch intrauterine growth retardation under circumstances in which a competent practitioner would have, and the result is harm to a baby, the doctor may be held liable for medical malpractice. This exists when a doctor's breach of the standard of care causes injuries. The standard of care varies from patient to patient, based on their medical history. The standard of care when treating a woman with very few risk factors for IUGR may be different from the standard of care when treating a pregnant woman who takes Depakote for epilepsy and is carrying twins.
Your attorney will need to consult a health care provider about the facts of your case to determine whether your doctor met the standard of care. The health care provider who is consulted will need to provide a report indicating that he or she believes that there is a reasonable and meritorious basis for the lawsuit, and this report will be attached to the initial complaint alongside the attorney's affidavit related to the merit of the lawsuit.
Contact a Chicago Attorney for a Birth Injury Case
When a baby is stillborn or hurt due to intrauterine growth retardation that could have been treated, the parents may be devastated. The Chicago lawyers at Moll Law Group can represent people in this situation during the legal process. Our firm assists people in Naperville, Schaumburg, Wheaton, and communities throughout Cook County. Billions of dollars have been recovered in cases in which we have been involved. Contact us online or call us at 312-462-1700 to set up a free appointment with a medical malpractice attorney.