Atrium Medical Corporation Prolite and Proloop Hernia Mesh Products
Chicago Lawyers for Defective Atrium Medical Corporation Prolite and Proloop Hernia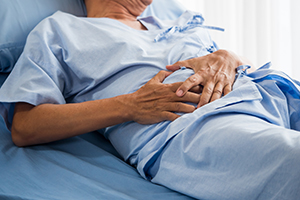 Prolite and ProLoop hernia mesh products are types of polypropylene mesh made by Atrium Medical Corporation for use during surgical hernia repair procedures. Lawsuits have been filed claiming that the company did not sufficiently test its hernia mesh products and therefore wound up with defective designs; the mesh in question has a high failure rate and sometimes causes complications that result in the need for revision surgeries. If you were injured by Prolite and ProLoop hernia mesh, you should give the seasoned Chicago product liability attorneys of Moll Law Group a call. Billions have been recovered in cases with which we've been involved.
As a result of a growing number of hernia mesh lawsuits in connection with the Atrium ProLite and ProLoop products, plaintiffs filed a motion to transfer with the United States Judicial Panel on Multidistrict Litigation. The motion, heard on March 31, 2022, aimed to consolidate the different claims before a federal judge so that pretrial proceedings would be coordinated.
Call Moll Law Group About Hernia Mesh Defects
Atrium hernia mesh may cause several different kinds of medical problems and complications. These can include tissue and nerve damage that result in severe pain. Allegedly, some hernia mesh medical devices that contain propylene are rejected by patients' bodies, triggering an autoimmune reaction. Plaintiffs who have filed lawsuits against Atrium accuse the medical device manufacturer of ignoring reports of side effects that are allegedly caused by its hernia mesh and continuing to market these products. Fifteen plaintiffs who are alleging manufacturing, design, and labeling defects in the hernia mesh moved to transfer the cases to multidistrict litigation on December 10, 2021.
Near-identical lawsuits have been pending against the manufacturer in four different district courts. When cases are pending in multiple courts in front of several different judges the result could be conflicting pretrial rulings related to discovery, depositions, and motion practice. The discovery in those cases may be duplicative and wasteful. Consolidation streamlines these processes. The United States JPML has established several other MDLs for other hernia mesh products including Bard, Ethicon Physiomesh, and Atrium C-Qur lawsuits. However, Atrium Medical has fought the transfer.
The plaintiffs' motion to consolidate argued that despite an abundance of information regarding the dangerous properties of polypropylene mesh, Atrium deliberately ignored the risks and aggressively promoted their mesh to doctors and patients alike. The motion also argued that the company misrepresented, and concealed serious risks and defects associated with the mesh. The motion indicated that the United States District Court for the Central District of California was the appropriate venue for trial of the lawsuits, since there were several lawsuits already pending in that court.
Product Liability Lawsuits
Consumers in Chicago and elsewhere across the country should be aware that they may pursue product liability lawsuits when design, marketing, or manufacturing defects in medical devices or other products have injured them. Often, further discovery is needed to determine the type of defect at issue. Design defects are flaws in a product that exist in every product that was made the way it was supposed to be made. Marketing defects are often failure to warn claims; these are appropriate when inadequate warnings were provided about the risks of the product. In the lawsuits filed against Atrium, there are allegations that the company failed to warn doctors of the risks. Manufacturing defects may be found when a product departs from the specifications and these departures are what cause injury.
When our Chicago product liability lawyers are able to establish liability, we may be able to recover damages. Often damages are compensatory, meaning that they are intended to put a plaintiff back in the position she would have been in had there been no defect. Punitive damages may be awarded in cases of egregious misconduct. For example, they may be appropriate if a hernia mesh manufacturer knew of its dangers of a product yet continued to promote the mesh to doctors and failed to warn them.
Consult an Experienced Chicago Hernia Mesh Claim Lawyer
You deserve to receive appropriate warnings in connection with implanted devices and to be protected from medical products that may be unreasonably unsafe. If you were harmed by defective Prolite and Proloop hernia mesh products, you should discuss a potential claim with the experienced Chicago-based product liability lawyers of Moll Law Group. We represent plaintiffs and their families around the country. Please complete our online form or give us a call at 312.462.1700.