Cartiva
Chicago-based Attorneys to Represent You in a Cartiva Lawsuit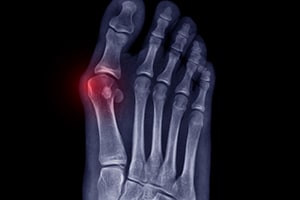 Lawyers are investigating the Cartiva toe implant, which is alleged to be unreasonably dangerous. The toe implant is believed to create complications when it loosens and fails. Cartiva implants are put in place when patients need treatment for big toe arthritis. However, a recent lawsuit claims that design defects in the implant caused implant failures two years after implantation, and this failure created a patient's need for fusion surgery. If you were harmed by a Cartiva implant, you should contact the seasoned Chicago-based product liability attorneys of Moll Law Group. Billions have been recovered in cases around the country with which we've been involved.
Call Moll Law Group About Your Cartiva Lawsuit
Cartiva implants are molded cylinder-shaped implants made out of polyvinyl alcohol based hydrogel. Doctors place them in the first joint of a patient's big toe, called the first metatarsophalangeal joint, when the patient's arthritis has caused joint degradation that produces significant pain. The condition is called hallus limitus or hallus rigidus and it affects 2.2 million across the United States.
The synthetic cartilage is meant to cushion degraded cartilage and in so doing, offer relief from pain. Doctors use the implant as an alternative treatment to fusing the joint by means of "arthrodesis," a surgical procedure that results in longer healing times and greater complexity.
Liability for Cartiva Implants
The Cartiva implants were marketed as safe treatments for patients with big toe arthritis. Unfortunately, many implant failures and related complications have been reported since the toe implant was introduced. Complications include loosening, fractures, serious toe pain, and other medical issues that necessitate toe fusion surgery.
Lawyers of many patients have started filing lawsuits against Cartiva to secure for patients the costs of further, expensive revision and replacement surgeries occasioned by the toe implant failures.
The plaintiff in one product liability lawsuit recently filed against Cartiva Inc., Wright Medical Group, and Stryker, in the U.S. District Court for the Western District of Texas, has claimed that the manufacturer failed to let consumers and patients know about the long-term risks of the implant.
According to this lawsuit, the Cartiva Synthetic Cartilage Implant (SCI) has design defects such that it's prone to failure. The failure of a toe implant can cause significant pain, as well as another surgery that leads to long-term disability and injuries. The plaintiff alleges that the company had marketed an unreasonably dangerous product without disclosure of known risks.
When the Cartiva SCI got premarket approval, it received that approval because it was substantially equivalent to arthrodesis. As the lawsuit indicates, these are different procedures and the results from the clinical study that resulted in approval have not been duplicated.
The actual failure rate for these implants is higher than predicted from that premarket approval study. In a 2019 study, 50% of those who received a toe implant needed a corticosteroid injection after getting implanted.
The warning label specifies a 13.5% failure, but the lawsuit alleges a failure rate that is 6-7 times greater. Complications have been connected to cyst formation, bone overproduction, infection, persistent pain, transfer metatarsalgia, and osteolysis.
Around 144 adverse events linked to Cartiva SCI have been reported to the FDA. Most of the complaints referred to the loosening of the implant due to degradation of the material used for the implant.
Our attorneys may be able to assert various theories to support your claim for damages if a toe implant is defective in terms of its marketing, manufacturing, or design, including strict liability, negligence, breach of warranty, and statutory violations. Since reports have been made of degradation of material in many different units made by Cartiva, it seems likely that the defect is a design defect. Failure to warn, a marketing defect, may also be an issue in these cases.
Call Our Trustworthy Chicago-based Product Liability Attorneys
If you or your child was injured as a result of a Cartiva implant, you should contact the seasoned Chicago-based product liability lawyers of Moll Law Group about whether you have a claim. We represent plaintiffs across the country. Please complete our online form or give us a call at 312.462.1700.