Bard Hernia Mesh
Attorneys for Victims Injured by Defective Medical Devices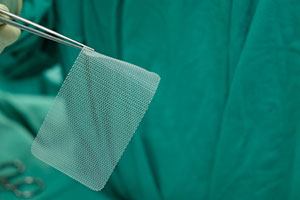 A hernia can occur wherever an organ pushes through muscle in the body. Often, hernia mesh is implanted to limit tissue movement without traumatizing the body's insides. All hernia mesh devices need to go through rigorous testing in medical trials before going onto the market, but certain hernia mesh devices go through testing and still fail. Bard hernia mesh lawsuits have been filed on the basis that the mesh causes injuries and complications that are so serious that additional surgeries have been needed. In 2011, Bard paid a total of $184 million to settle about 3,000 cases. If you were injured or suffered severe complications due to Bard hernia mesh, you should consult the Bard hernia mesh lawyers at Moll Law Group.
Bard MDL 2846 Polypropylene hernia mesh products include Composix, Composix E/X, Composix L/P, Ventralight, Spermatex, Sepramesh, Ventralex, Ventralex ST, Kugel Patch, Composix Kugel, Ventrio, Visilex, Ventrio ST, Marlex (aka Flat Mesh; Bard Mesh), Perfix Plug, Perfix Light Plug, 3D Max-Lite, and 3D Max.
Problems Associated with Hernia Mesh
A hernia occurs when an organ or tissue breaks through a weak spot in muscle or connective tissue. Common areas in which hernias occur are the upper stomach, the umbilical area, the outer groin, the inner groin, or around an incision. A hernia can be a result of somebody pushing himself too hard physically, such as when somebody lifts something that is much too heavy. Many hernias require surgery. Around a million hernia mesh surgeries are performed each year. The purpose of these surgeries is to restrict the movement of tissue that may have moved outside a special place by breaking muscular tissue. Hernia mesh can be permanent or temporary, and it can be taken away once the surgical area closes.
However, our Bard hernia mesh attorneys know that hernia mesh can erode after implantation, resulting in side effects or pain. Other dangerous side effects of hernia mesh include adhesion, erosion, bowel obstruction, infections, fistulas, recurring hernias, perforations, internal bleeding, migration, seromas, shrinkage, or pain. Polypropylene deteriorates when it is in contact with oxygen, resulting in erosion. After mesh erodes, it shrivels and shrinks, and it may seize onto tissue and adhere to the tissue, resulting in perforated muscles, bleeding, and chronic pain. Sometimes mesh pulls away from the abdominal wall and travels within the body, resulting in medical complications, such as adherence to other organs or tissues in the form of a fistula. Additionally, there is a risk of infection at the site of the implantation.
Product Liability Claims Based on Hernia Mesh
If you were injured by defective hernia mesh, we can help you pursue compensation by filing a product liability lawsuit against the manufacturer. Products can be defective in terms of their manufacturing, design, or marketing. In the lawsuit, it may be appropriate to assert that the hernia mesh was defectively designed or that there was a failure to warn about the dangers of the mesh implant.
Potential design defects include a difficulty in removing the mesh. A Bard hernia mesh lawyer also might argue that the polypropylene erodes and that Bard should have known about the erosion but chose to use the polypropylene anyway. A lawsuit also might allege that the mesh does not sufficiently stop adhesion, or that the mesh product has memory rings that break.
Additionally, medical device companies are supposed to warn about the side effects of their products. The duty to warn may be discharged by warning doctors under the learned intermediary doctrine. Doctors and surgeons rely on these warnings, and they are better positioned to determine whether the risks outweigh the benefits for a certain patient.
Damages
If we can establish liability, we may be able to recover compensatory damages. Compensatory damages can include both economic and non-economic losses, such as medical bills, lost wages, lost earning capacity, mental anguish, and pain. We may be able to sue for punitive damages; these are damages intended to punish and deter a defendant and similarly situated parties.
Consult an Experienced Product Liability Lawyer
If you were injured by Bard hernia mesh, you may be able to bring a product liability lawsuit against the manufacturer. At Moll Law Group, our Bard hernia mesh attorneys represent people who have been injured because of defects in these medical devices. Call us at 312.462.1700 or contact us online for a free consultation.