Zimmer Biomet Comprehensive Reverse Shoulder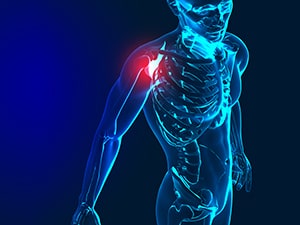 Defective Medical Device Attorneys Helping Injured Consumers Nationwide
The Zimmer Biomet Comprehensive Reverse Shoulder is a shoulder replacement device that doctors surgically implant so that patients can move their arms again. Generally, it is used for patients who suffer rotator cuff tears and develop a serious form of shoulder arthritis called arthropathy. Often, they have had a previously failed shoulder joint replacement. Zimmer Biomet recently recalled the devices because they are fracturing more quickly than the labeling indicates. If you have been injured by a Zimmer Biomet Comprehensive Reverse Shoulder device, the experienced Zimmer Biomet lawyers at Moll Law Group can evaluate your case and may be able to help you recover compensation.
Problems With Zimmer Biomet Comprehensive Reverse Shoulder Devices
In December 2016, the manufacturer of the Comprehensive Reverse Shoulder sent out an Urgent Medical Device Recall Notice and a Certificate of Acknowledgement form. The notice asked customers—doctors and hospitals— to review the safety notice and make sure that their staff knew about the recall. They were also asked to identify and quarantine affected devices that were in stock. A sales representative is supposed to remove a device that is affected from the facility. The notice did not provide specific patient monitoring instructions related to the recall, other than following any existing protocol for surgical follow-up.
Both health care providers and their patients should be aware of the recall. Fractures of the device may result in negative consequences for a patient, such as permanent loss of shoulder function, infection, or death. It may be necessary for a patient to undergo revision surgery. If you have undergone surgery, you should consult with your doctor about the Comprehensive Reverse Shoulder recall and its implications for you. You may also wish to consult a Zimmer Biomet attorney to see whether you may have a claim.
Patients injured by a defective device may have grounds to bring a product liability lawsuit. Often, the only way to address the medical costs that may arise is to sue the manufacturer of a defective device. Medical devices may be unreasonably dangerous or defective in their manufacturing, design, or marketing.
Marketing defects are more often known as failures to warn. Under the learned intermediary doctrine, manufacturers discharge their duty to warn by providing warnings to doctors. The rationale is that doctors will provide warnings to patients, and they are better able to have an informed discussion with the patient about the potential risks and benefits of using a particular medical device.
Each state follows its own rules regarding which theories may be used to pursue compensation in a product liability case, such as a case involving a defective implant. In some states, it is possible to assert a strict liability theory, under which a plaintiff will need to establish that there was an actionable defect and that the defect caused their injuries. However, in certain states, a plaintiff must establish negligence, which requires them to establish not only a defect but also the manufacturer's duty of care, a breach of duty, causation, and damages.
Discuss Your Case with a Zimmer Biomet Lawyer
If you or a loved one suffered injuries due to a Zimmer Biomet Comprehensive Reverse Shoulder implant, the Zimmer Biomet attorneys at Moll Law Group can evaluate whether you may have grounds to bring a lawsuit. Our firm pursues claims for injured consumers nationwide, including in Illinois, Michigan, Ohio, Pennsylvania, Texas, New York, Florida, and California. Billions of dollars have been recovered in lawsuits in which we have been involved. Contact us at 312-462-1700 or use our online form to set up a free consultation with a product liability lawyer.