Fresenius Hemodialysis Machines
Chicago-Based Lawyers for Claims Regarding Fresenius Hemodialysis Machines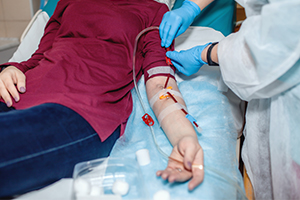 The Fresenius Medical Care 2008 Series Hemodialysis Machines serve as patients' artificial kidneys. Providers use them to pump blood from a person's body to remove toxins and excess water. Recently, Fresenius Medical Care recalled certain of its hemodialysis machines due to potential patient exposure to toxic compounds. The FDA classified the recall as a Class 1 recall, which is reserved for devices that can cause death or serious injuries. However, the recall of the 2800 HD Series hemodialysis machines is a correction not a product removal. If you were injured by a Fresenius hemodialysis machine, you should call the seasoned and trusted Chicago product liability lawyers of Moll Law Group. We are trial attorneys who represent consumers and patients harmed around the country. Billions have been recovered in lawsuits with which we've been involved.
Fresenius Hemodialysis Devices
One of the largest providers of dialysis services and devices is Fresenius Medical Care. It not only owns dialysis clinics, but it also makes many of the devices, blood lines, needles, and concentrate that are commonly used for dialysis at clinics run by other providers. Many patients have received hemodialysis that used NaturaLyte Liquid and Granuflo acid concentrates. Unfortunately due to the warnings and instructions provided with dialysis, inappropriate treatments made have been described. Some plaintiffs have filed suit, alleging that the treatments caused them to suffer cardiac death, cardiopulmonary arrest, or heart attack. Other risks include stroke and sudden death. It's believed that doctors were not adequately warned to account for the potential for Fresenius products to convert to extra bicarbonate when determining prescription strength, and this could result in overdoses of bicarbonate that can trigger metabolic alkalosis, and thereby increase the danger of severe heart trouble.
On September 6, 2023, Fresenius Medical Care sent affected consumers an urgent medical device correction letter, asking them to contact Fresenius if they have a hemodialysis machine that contains chlorinated peroxide cured silicone tubing and has been in use, or not used for less than 36 days or 486 hours. The company offered to update the machines to platinum cured silicone tubing for free. According to Fresenius, machines bought after October 2022 are not affected because they are made with platinum cured silicone tubing.
The 2008 Series Hemodialysis Machines have been recalled by Fresenius because it's been discovered that patients may face exposure non-dioxin-like (NDL) polychlorinated biphenyl acids (PCBAs) when using the device. The toxic compound is excreted from peroxide-cured silicone tubing that the manufacturer used as a part of the hydraulics in the machine and dialysate lines.
The manufacturer's data demonstrates that the amount of NDL PCBAs is reduced during the first month while routine clinical use of the machine is occurring.
Fresenius Medical Care is updating affected machines manufactured between August 21, 2008 and June 6, 2022, that contain chlorinated peroxide cured silicone tubing and may not have been used or may have been in use for less than 36 days (or 486 total hours).
Purportedly, affected devices can trigger severe adverse health consequences months to years after you are exposed including neurobehavioral changes, male infertility, liver trouble, endocrine dysfunction, acne, and rashes.
Around 207 hemodialysis devices were recalled in the United States. The recall was initiated November 25, 2022. There is an ongoing evaluation of these machines that was announced in a letter to health care providers about potential risk of exposure to toxic compounds. The affected machines were distributed August 21, 2008 to June 6, 2022. They are 2008T HD SYS. W/O CDX BLUESTAR, 2008T HD SYS. CDX W/BIBAG BLUESTAR, 2008T HD SYS. CDX BLUESTAR, 2008T HD SYS. W/O CDX W/BIBAG BLUESTAR, 2008T Hemodialysis SYS, with CDX, 2008T Hemodialysis System without CDX, 2008T Hemodialysis System w/Bibag, 2008T GEN 2 Bibag without CDX.
No deaths have been reported, but it's important to be alert to the risks and to talk to your provider about them if you received hemodialysis support from 2008 Series Hemodialysis Machines between August 21, 2008 and June 6, 2022.
Contact Our Trusted Chicago-based Medical Device Attorneys
If you or a loved one suffered injuries due to a Fresenius hemodialysis machine affected by the recall, consult the experienced Chicago-based product liability lawyers of Moll Law Group about whether you have a viable basis to pursue damages. Our law firm is dedicated to fighting for injured consumers and patients around the United States. Complete our online form or call us at 312.462.1700.