IVC Filter Lawyers in Chicago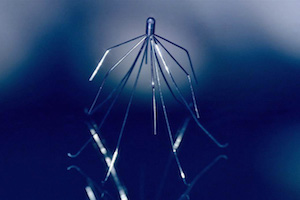 Attorneys Representing Victims of Faulty Medical Devices Nationwide
Bard IVCs are spider-like wire medical devices that surgeons implant in patients' veins when they are unable to take a blood thinner. The purpose of the filter is to stop blood clots from entering the lungs. In 2010, the FDA warned that these temporary filters, if not removed in time, have numerous risks like filter fracture and organ perforation. Our IVC filter lawyers know that patients have suffered serious complications, such as filter migration and punctured organs. In 2014, the FDA recommended that the devices be removed between 29 and 54 days after implantation. Unfortunately, this warning was issued too late for some people, who were already injured or killed by the filter. If you were hurt or have lost a loved one due to the use of the Bard IVC Filter or another defective medical device, you should consult the product liability lawyers at Moll Law Group. Billions have been recovered in cases in which we were involved.
Establishing Liability for Defective BARD IVC Filters
Bard IVC filters are used in order to protect patients from suffering dangerous blood clots. However, the devices themselves may be unreasonably dangerous and carry numerous risks. For example, shards can break off the filter, causing fatalities in the same manner as a stroke. In spite of this, Bard allegedly petitioned for the medical device to be approved as a permanent implant.
There appears to be evidence that this manufacturer acted negligently in designing certain IVC filters, failed to give appropriate warnings about its filters' high failure rates, and continued to market the devices even after knowing the failure rates were substantially higher than the failure rates of other filters on the market. Bard may have known as early as 2003 that splintering was a risk faced by patients using this device. If it did know, it failed to tell patients or warn doctors, continuing to market and sell the device until it made a suitable replacement ready for market.
There are multiple products liability theories that plaintiffs may allege in Bard IVC filter cases, including negligence, misrepresentation, strict liability, and breach of warranty. In general, to bring a product liability lawsuit, an IVC filter lawyer will need to prove that there was a dangerous defect in the device, you were hurt or a loved one was killed, and the device is what caused the injuries or death.
The Bard IVC filter may have design or marketing defects. Two tests may be used to prove design flaws or defects: the risk utility test and the consumer expectation test. A manufacturer is liable under the risk utility test if the probability and seriousness of consumer injury are greater than what it would have cost the manufacturer to use an alternative safer design and the diminished utility if the alternative design were used. If the consumer expectation test is used, the plaintiff will need to prove the Bard IVC filter is more dangerous than what a patient typically expects. Marketing defects are also known as failures to warn. Many of the allegations against Bard concern its failure to warn of risks like splintering.
Filter manufacturers have argued that they are not at fault because the patients' doctors chose to implant the device and were responsible for monitoring the device once it was implanted. However, if the manufacturer knew of the unusually high risks of the filter and failed to provide warnings to doctors, it is the manufacturer and not a doctor that is responsible for harm to patients.
Protect Your Rights by Consulting an Experienced IVC Filter Attorney
If you have been hurt or have lost a loved one because of a Bard IVC filter, the product liability attorneys at Moll Law Group may be able to help you pursue damages. We represent injured patients nationwide, including in states such as California, Florida, New York, Texas, Pennsylvania, Ohio, and Michigan. Call us at 312-462-1700 or use our online form to arrange a free consultation with an IVC filter attorney.