Bard PowerPort
Chicago-based Lawyers for Bard PowerPort Claims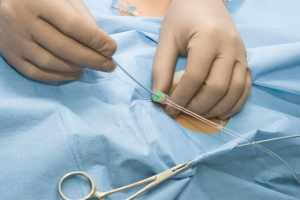 The Bard PowerPort is a port catheter medical device that health care providers implant beneath the skin to permit a patient's attachment to a catheter that delivers intravenous chemotherapy and other fluids or medications. It's been discovered that the device is prone to fracturing and then migrating into a different position, resulting in serious injuries such as internal vascular damages. Plaintiffs who have been injured as the result of the Bard PowerPort are bringing product liability lawsuits against the manufacturer. If you or a loved one suffered harm due to a defective Bard Power Port device, call the seasoned Chicago product liability lawyers of Moll Law Group about whether you have grounds to sue. We represent clients around the nation, and billions have been recovered in product liability lawsuits with which we've been involved.
Contact Moll Law Group About Your Bard PowerPort Lawsuit
The Bard PowerPort is a two-part medical device manufactured by C.R. Bard, a wholly owned subsidiary of Becton Dickinson and Co. The device consists of a catheter and an injection reservoir. The lawsuits filed against the manufacturer allege that the concentration of barium sulfate used while manufacturing the catheter damages its material integrity and makes the catheter brittle. This lack of material integrity can cause fracture or migration of the catheter, which in turn can lead to a serious infection and thrombosis.
The United States Food and Drug Administration (FDA) has gotten hundreds of adverse event reports from patients implanted with the device. One report has found a 59% complication rate with the Bard PowerPort. Complications may be life-threatening and include infections, vital organ damage, cardiac punctures, bleeding, blood clots, pulmonary embolism, hematoma, laceration of blood vessels, catheter occlusion, endocarditis, and a rare complication called pinch-off syndrome. Sometimes these complications are fatal. Despite knowing of these complications, the manufacturer has continued to represent that the products are safe and effective. There has been no recall, no adjustment to the product, and no warnings added to the labels.
Numerous lawsuits have been filed and continue to be filed against the manufacturer. The lawsuits have been centralized in multidistrict litigation in the District of Arizona, where Bard Access Systems has a significant business presence.
Recovering Damages in a Product Liability Lawsuit
Product liability lawsuits may be pursued when a product is defective in terms of its manufacturing, design, or marketing. Plaintiffs allege that the Bard PowerPort has manufacturing and design defects. Manufacturing defects are one-off flaws in how a product was made. Design defects are flaws that exist in all units of the product. For example, if the material with which the PowerPort is made is prone to fracturing, its use in the catheter's design specs may be a flaw.
Our Chicago attorneys may be able to pursue damages in a dangerous device lawsuit by asserting the defendant's liability under theories of negligence, strict liability, breach of warranty or breach of contract. Each state has its own rules about which of these theories is appropriate in a product liability lawsuit.
When our lawyers are able to establish a defendant's liability under an appropriate theory, we can recover compensatory damages on your behalf. These are damages intended to make up for your losses or put you back in the position you would have been in had there been no defects in the product. They can include both economic and noneconomic losses including medical expenses, lost wages, lost earning capacity, pain and suffering, loss of enjoyment of life, mental distress, replacement services, and out-of-pocket costs.
Contact Our Trusted Chicago-based Medical Device Attorneys
If you or a loved one suffered injuries due to a Bard PowerPort device, call the experienced Chicago-based product liability lawyers of Moll Law Group about whether you have a viable basis to pursue damages. Our law firm is dedicated to fighting for injured consumers and patients around the United States. Complete our online form or call us at 312.462.1700.