Cochlear Implants
Lawyers for Defective Cochlear Implant Lawsuits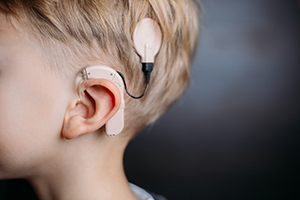 Cochlear implants address hearing impairment differently from hearing aids that amplify sound for the hearer. Rather, a cochlear implant stimulates the auditory nerve to address a patient's hearing impairment. It is a complicated electronic device that gives sound to a deaf person or a person who is severely hard of hearing. A surgeon places a stimulator under the skin, and it is connected to a speech processing microphone. The stimulator sends electrical impulses into the auditory nerve and the brain recognizes these signals as sounds. Unfortunately, some cochlear implants, include ones made by the company Advanced Bionics have defects. If you were harmed by a defective cochlear implant, you should call the experienced Chicago product liability lawyers of Moll Law Group. We represent clients around the country. Billions have been recovered in lawsuits with which we were involved.
Around 50% of cochlear implants made by the California-based company Advanced Bionics, a subsidiary of a Swiss hearing aid manufacturer, had defects according to the Swiss newspaper, Neue Zurcher Zeitung in November 2021. This high figure was shocking because the anticipated failure rate for cochlear implants should be below 1%. The company is a leading maker of cochlear implants.
Hire Moll Law Group to Pursue Damages for Defective Cochlear Implants
The Advanced Bionics cochlear implants have a defect that allows moisture to come in and short circuit the electronics. The defective implants must be removed and replaced. Based on investigation, it is believed the manufacturer kept selling older defective implants even after German surgeons warned them of the defect in summer 2019 and before they warned consumers or recalled the device in February 2020.
The director of Ear, Nose, and Throat Clinic at the renowned German Hearing Center told a journalist that the bodily fluid penetrates in the place where the implant should send signals to the auditory nerve. Importantly there was an identical defect in prior models of Advanced Bionics cochlear implants. The FDA sued the company because it hadn't received premarket approval for the implant. Although the implant was recalled, it was sold and implanted post-recall, too, and the company paid $1 million in settlement.
Product Liability Lawsuits In Chicago
Our attorneys can file a product liability lawsuit when a dangerously defective product causes harm to a patient. Thousands of hearing-impaired children use cochlear implants, including those made by Advanced Bionics. Young children, in particular, rely on cochlear implants to develop their speech and language skills during an optimal period before they are 18 months old; when a cochlear implant is placed before they are 18 months in age, they can hear and understand sound and speak at a rate similar to those of children with average hearing.
When an implant must be surgically removed and replaced because it is defective, children can be seriously harmed. There is a danger that the auditory nerve will be damaged during reimplantation. Additionally, they will also need to readapt to a new implant, which takes time, and can interfere with young children's optimal learning periods.
In addition to bringing a product liability lawsuit, we may need to file a medical malpractice suit against a doctor that implanted a defective device. Compensatory damages that may be recovered in a Chicago lawsuit include medical bills for a replacement surgery and other procedures, out-of-pocket expenses, special education, pain and suffering, and loss of enjoyment. When a company knows of a defect in a product such as a cochlear implant and sells it anyway, such that harm results, it may be appropriate to explore the possibility of punitive damages.
Hire an Attorney to Represent You in a Defective Cochlear Implants Lawsuit
If you were harmed by a defective cochlear implant, you should discuss the situation with the Chicago-based product liability lawyers of Moll Law Group. We work towards providing consumers with information that prevents harm to children and others. However, if your child has already been harmed by a defective implant, we stand ready to represent you in protecting your rights. Please contact us through our online form or call us at 312.462.1700.