Bed Rails
Chicago Law Firm for Bed Rail Lawsuits Around the Country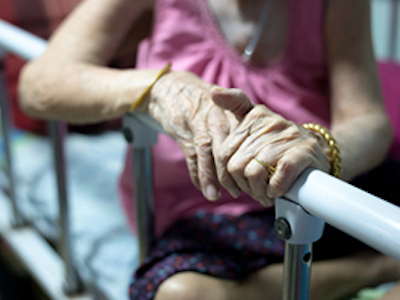 It may be necessary to install adult bed rails for the protection of the elderly or disabled, whether they live at home, at an assisted living facility, or in a nursing home. However, bed rails also sometimes carry dangers, including increased risks of asphyxiation and falls. Even when used properly, they can present a particular risk to those with limited mobility or altered mental conditions such as dementia. On December 22, 2021, the United States Consumer Product Safety Commission (CPSC) and the manufacturer, Compass Health Brands, issued a recall for Carex brand Adult Portable Bed Rails. If you were injured or a loved one was killed due to defective bedrails, whether produced by Carex or another manufacturer, you should call the experienced Chicago product liability attorneys of Moll Law Group. We understand that it's devastating to suffer serious injuries or lose a loved one. Billions have been recovered in cases with which we've been involved.
Carex Brand Adult Portable Bed Rails
The recalled bed rails were Carex brand Bed Support Rail (P566) and Carex brand Easy Up 2-in-1 Bed Rail (P569). Around 104,900 bed rails of these types were sold between November 2012 – December 2021, both online at sites like www.amazon.com and www.walmart.com, and at medical supply stores around the country. The bedrails were sold for between $22 - $80. The recall was issued because when these bed rails are attached to beds, users may get trapped between the rails and the mattress or get stuck inside the bed rail. These situations pose the danger of death by asphyxiation. The recall is voluntary.
There have been three entrapment deaths reported in connection with the Carex brand model P566. They occurred in different states. One of the deaths was an 85-year-old man in an assisted living facility. Another was an 84-year-old woman at home. The third was an 88-year-old woman, also at an assisted living facility. In each circumstance, the bed rail had not been securely fixed to the bed, so the user got caught between the rail and the mattress. There have been no incidents reported to the manufacturer for the Easy Up 2-in-1 Bed Rail (model P569), but it is also being recalled.
Consumers have been told to stop using the recalled rails and contact Compass Health Brands. Your potential remedies with regard to the rail are to get a refund or a free repair kit.
Liability for Defective Bed Rails
You can file a product liability lawsuit for compensation if you're injured by a defective product, such as a defective bedrail. Products can be defective in terms of their manufacturing, marketing, or design. If a bedrail is designed so that users are always at risk of entrapment, there is likely a design defect. However, if a bedrail was made slightly differently than specifications required and this difference caused entrapment, there may be a manufacturing defect.
Theories under which a product liability lawsuit may be filed vary, according to each state's laws, but in the Chicago area, theories alleged typically include strict liability, negligence, and breach of warranty. In most cases, lawsuits predicated on a theory of strict liability are more straightforward for plaintiffs' attorneys to establish than those based on negligence. With strict liability, we would need to prove: (1) the bed rail was defective, (2) the defect caused your injuries or a loved ones death. When our lawyers need to establish negligence, we also need to show that the manufacturer breached the applicable duty to use reasonable care, and that its breach is what caused the defect that resulted in your injuries or your loved one's death.
Each state has their own wrongful death laws that define which deaths are wrongful and what damages may be recovered. However, in general, when a death is the result of a defective product or negligence, it may be appropriate to sue for wrongful death damages. In Chicago, and in Illinois generally, wrongful death lawsuits can be brought in those situations in which the decedent could have pursued a personal injury claim had he or she survived. If, for example, your mother was in an assisted living facility and was asphyxiated due to a defective bedrail, you may be able to obtain compensation for your losses, including funeral and burial expenses, loss of consortium, and survivors' emotional anguish.
Hire an Experienced Product Liability Lawyer
If you were injured as the result of Carex or other brands of bed rails, you should discuss the situation with the seasoned Chicago-based product liability lawyers of Moll Law Group. Our firm strives to give consumers information with which they can protect themselves. However, if you've already been harmed, we stand ready to represent you in protecting your rights. Please contact us through our online form or call us at 312.462.1700.