Zimmer Biomet Spinal Fusion Stimulators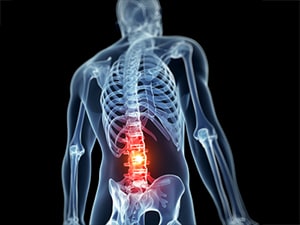 Experienced Lawyers for Victims of Defective Medical Devices
Zimmer Biomet spinal fusion stimulators are used by surgeons during spinal fusion surgery in order to increase the possibility that two or more backbones will be permanently connected together. Doctors implant the device into a patient's back, and the device provides electrical stimulation. Recently, these devices were recalled in what the FDA has identified as a Class I recall, which is quite serious. The devices being recalled were distributed between March 28, 2017 and April 7, 2017. The recall of these devices is based on a finding that they permit higher levels of potentially dangerous and toxic chemicals. If you or a loved one suffered adverse consequences as a result of a Zimmer Biomet spinal fusion stimulator, you should contact an experienced Biomet attorney. At Moll Law Group, we represent victims across the country in product liability lawsuits against manufacturers. Billions of dollars have been recovered in cases in which we have been involved. We can advise you on whether you may have a claim.
Claims Based on Zimmer Biomet Spinal Fusion Stimulators
Zimmer Biomet sent a notice to its customers on April 20, 2017, instructing them to review the notice and quarantine affected products, as well as distribute the notice to the appropriate personnel. Surgeons were told to continue with normal clinical monitoring for 2-6 months post-operatively for patients who had had affected devices implanted. The SpF PLUS-Mini and SpF XL IIb Implantable Spinal Fusion Stimulators are the two types of stimulators being recalled. Apparently, they permit high levels of potentially toxic chemicals that may affect the tissues and organs of a patient in whom they are implanted.
The FDA has stated that the company discovered that the device failed a cytotoxicity test, which is a biological evaluation of a medical device to make sure that it is compatible with the human body. The discovery was made during routine monitoring. Using the Zimmer Biomet Spinal Fusion Stimulators covered by the recall may cause chronic infections, a need for additional surgeries, paralysis, or even death.
If you have been implanted with a Zimmer Biomet spinal fusion stimulator and suffered adverse consequences as a result, a Biomet lawyer at our firm can help you file a product liability lawsuit against the manufacturer. Medical devices may be defective in one of three ways: in terms of manufacturing, design, or marketing. Usually, marketing defects involve failures to warn. However, in most states, a duty to warn consumers is discharged by warning doctors about a dangerous product under the learned intermediary doctrine. The rationale behind this doctrine is that a doctor is in the best position to determine whether to use a particular device and the risks and benefits for a specific patient.
If a defect is proven, you may be able to recover compensation under a theory of strict liability or negligence. When strict liability is permitted, you may recover by simply proving that the product was defective and that it caused your harm. For example, if a loved one was implanted with a Zimmer Biomet spinal fusion stimulator and suffered fatal organ damage due to toxic chemical exposure, it may be possible for you to bring a wrongful death claim against the manufacturer. In jurisdictions that require proof of negligence, a plaintiff must establish the manufacturer's duty of care, a breach of that duty, causation, and actual damages.
Damages that may be recovered if liability is established may vary, but they typically include medical bills, lost wages, lost earning capacity, pain and suffering, mental anguish, and loss of consortium. Funeral and burial expenses may be available in a wrongful death case involving a defective product.
Retain a Biomet Attorney to Assert Your Rights
If you or a loved one suffered injuries due to a Zimmer Biomet Spinal Fusion Stimulator, the Biomet lawyers at Moll Law Group can evaluate whether there is a basis to bring suit against the manufacturer. Our firm pursues claims for people all over the country, including in states such as Illinois, California, Florida, New York, Texas, Pennsylvania, Ohio, and Michigan. You can contact us online or call us at 312-462-1700 to set up a free appointment with a defective medical device lawyer.