Stryker Pleural Drainage Devices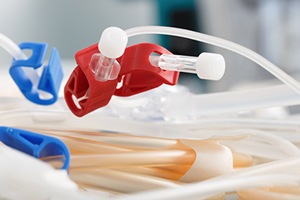 Defective Product Attorneys Assisting Patients Nationwide
Stryker Corporation manufactures various pleural drainage devices that are used to remove air from the pericardium surrounding the heart, or to drain fluid or air from the pleural cavity surrounding the lungs. However, there have been at least two reports that the catheter portion of the set broke off in a pleural cavity while the device was being inserted into the patient. In both cases, medical intervention was required. In general, this occurrence may cause serious injuries or even death. If you were hurt because of a flawed pleural drainage device, the Stryker lawyers at Moll Law Group are available to help you recover compensation. Billions of dollars have been recovered in cases in which our defective medical device attorneys have been involved.
Pursuing Claims Based on Stryker Pleural Drainage Devices
Often, bringing a product liability lawsuit is the only way for an injured individual to be able to afford the medical care needed after falling victim to a defective product. Generally, to recover compensation, the plaintiff will need to prove that a device's design is unreasonably dangerous, that the specific device suffered from a manufacturing defect, or the manufacturer failed to provide adequate warnings or instructions.
Depending on state laws, your Stryker attorney may be able to recover compensation from a manufacturer or seller based on strict liability, negligence, or breach of warranty. Strict liability is usually considered the most favorable theory for plaintiffs. This theory allows someone hurt by a defective product to recover compensation from the manufacturer or seller without showing that it was negligent. The rationale for this theory is that consumers cannot be expected to check every product they use before using it to determine if it is defective, and they should not need to prove that the manufacturer or seller had a system for checking for defects before releasing the product onto the market.
When the product at issue is a medical device like the Stryker pleural drainage devices, the doctor is using the product, and the patient has no control over which device is used. Sometimes a product recall may provide evidence of a defect. For example, the FDA classified Stryker's recall of 34 pleural drainage devices on the ground that they have a reasonable probability of causing serious health problems or even death as a Class I recall. This is the most serious type of recall.
In some states, negligence is the only theory by which to recover compensation for injuries caused by a defective medical device. Negligence requires you to prove that the manufacturer or other defendant owed a duty, which it breached, thereby causing your injuries.
It is important to include all appropriate defendants in a medical device lawsuit. The manufacturer, testing laboratory, and medical sales representative may have some responsibility for a defective product. In addition, the doctor and hospital that used the Stryker pleural drainage device may have some responsibility, depending on whether they used the device on a patient before or after the recall. A health care provider's failure to properly inform patients about a recalled medical device may result in medical malpractice liability.
Enlist a Stryker Lawyer to Seek Compensation
If you were harmed by a Stryker pleural drainage device, you should consult the product liability lawyers at Moll Law Group. We are available to review your case and pursue a claim for compensation. Our firm handles product liability cases around the nation in states such as Ohio, Illinois, New York, Pennsylvania, California, Texas, and Florida. Contact us online or call us at 312-462-1700 to set up a free consultation with a Stryker attorney.