Cancer Caused by Dangerous Drugs
Pharmaceutical Injury Attorneys Assisting Consumers Nationwide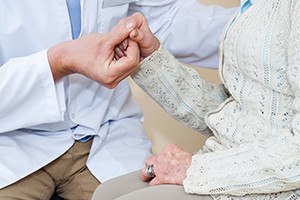 Many common prescription medications cause cancer in animals, but their effects in humans are unknown. Drug manufacturers owe a duty to the public to make sure their drugs are safe. Unfortunately, cancer is a hidden risk of taking certain drugs. For example, certain type 2 diabetes drugs, including Januvia and Byetta, are now known to come with the serious possible side effect of pancreatic cancer. Often, the only recourse cancer patients have is to bring a product liability lawsuit against a manufacturer that hid the risk that using its drug would cause cancer. If you developed a form of cancer caused by dangerous drugs, you should consult an experienced trial attorney. At Moll Law Group, our dangerous drug cancer lawyers bring product liability lawsuits on behalf of consumers throughout the U.S.
Cancer Caused by Dangerous Drugs
Manufacturers are expected to design drugs carefully and warn the public of any risks associated with a particular drug. They owe a duty to test and warn the public even after their drug has been approved by the FDA and is on the market. Even if a manufacturer did not know at the time of FDA approval that cancer could be caused by using a drug, if it receives reports that patients have developed cancer, it should immediately issue warnings.
In some cases, the date on which a company became aware of cases of cancer among users is disputed. When manufacturers know of a particular risk but sell a drug without warnings anyway, it may be possible to recover punitive damages, also known as exemplary damages, in addition to compensatory damages. Punitive damages are damages awarded to punish a defendant and deter others from acting similarly.
In most states, a manufacturer that fails to warn that cancer is a side effect of a particular drug may be held strictly liable for all of the damages that flow from the cancer diagnosis. This means that a dangerous drug cancer attorney need only prove that a defect in the drug's manufacturing, design, or marketing caused the cancer. However, there are some states that require injured patients to prove negligence. In these states, you will need to establish a duty of care, a breach of the standard of care, causation, and damages.
In most states, a manufacturer can discharge the duty to warn patients by warning doctors under the learned intermediary doctrine. Generally, doctors are in a better position to assess whether a patient's health condition and medical history make him or her a likely candidate to develop cancer. The doctor can discuss the risks and benefits with the patient so that the patient makes an informed decision about whether to use the drug.
If a patient develops cancer due to a dangerous drug and dies, it may be possible for his or her family to bring a wrongful death lawsuit to hold the manufacturer and others in the chain of distribution accountable. Each state has its own rules related to who can bring a wrongful death lawsuit and which types of damages may be recoverable.
Explore Your Options with a Dangerous Drug Cancer Lawyer
If you believe that your cancer diagnosis was caused by a flawed pharmaceutical, the dangerous drug cancer attorneys at Moll Law Group are available to investigate and sue the responsible parties. We provide legal representation to injured individuals nationwide, including in Illinois, Ohio, New York, Pennsylvania, California, Texas, and Florida. Billions of dollars have been recovered in cases in which we have been involved. Call us at 312-462-1700 or contact us online to set up a free consultation with a product liability attorney.