Shingles Vaccine
Pharmaceutical Injury Lawyers Assisting Consumers Nationwide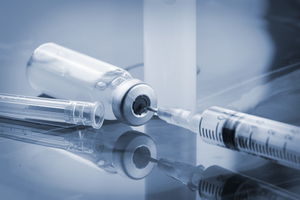 According to Merck Pharmaceuticals, Zostovax is a shingles vaccine. However, whether it works is questionable. In recent news, lawsuits have been filed alleging that recipients of the vaccine have developed a case of full-blown shingles after receiving the vaccine. Some lawsuits allege that users not only developed shingles but also suffered from vision damage, blindness, post-herpetic neuralgia, or other permanent nerve damage. Complications may include hypersensitivity reactions, including pain, fever, anaphylaxis, local swelling, redness, headache, rash, and unusually swollen glands. If you have suffered harm due to the use of Zostovax, the shingles vaccine lawyers at Moll Law Group are ready to investigate your case and help you pursue compensation. Our pharmaceutical injury lawyers have assisted victims in complex litigation nationwide, and billions of dollars have been recovered in cases in which we have been involved.
Claims Based on Defective Shingles Vaccines
Shingles is a virus more commonly found in patients who are at least 50 years old. It is caused by dormant chickenpox viruses that have stayed in the body's nervous system for years, eventually causing a painful band of blisters, which are usually on one side of a person's torso. Zostavax is a shingles vaccine for people who are age 50 and up.
Merck has claimed that Zostavax is 50% effective against shingles. It bases this claim on a study in which 3.3% of a placebo group developed shingles, compared to 1.5% in the vaccine group. This is a 50% difference, but the actual risk reduction is only 1.8%. Many people would not take the risk of losing their eyesight or developing permanent nerve damage based on this tiny risk reduction.
A Merck whistleblower has alleged that the company falsified measles vaccine data so that it could keep its government contracts. The company also produced Vioxx, which is known to have caused heart attacks and strokes, killing about 500,000 Americans. It has been reported that mass vaccination of children for chicken pox may have caused an increase in shingles for adults. Many business interests are pushing the shingles vaccine forward, even though it may represent a threat to seniors. It is reasonable to question whether the vaccine is safe.
If you are harmed by the shingles vaccine, you may be able to recover compensation by bringing a product liability lawsuit with the assistance of a shingles vaccine attorney. There are three ways that a medical product may be defective: manufacturing, design, or marketing. Most marketing claims are failure to warn claims. The issue in these claims would be whether a manufacturer failed to warn about an unreasonably dangerous side effect (such as blindness). Manufacturing defects exist if the product is not formulated according to specifications but deviates from them, such that it causes injuries. Design defects exist when a product's specifications are flawed, such that it is unreasonably dangerous.
A manufacturer may discharge the duty to warn in many cases by providing a warning to a doctor under the learned intermediary doctrine. The idea behind the doctrine is that a doctor is better situated than a manufacturer to weigh the risks and benefits of a medical product.
If you can establish liability in a defective medical product case, you may be able to obtain compensation to make up for your losses. These may include hospital bills, medical treatment, medical mileage, out-of-pocket expenses, loss of household services, loss of consortium, pain and suffering, and mental anguish. When it is possible to show that a drug company knowingly put out a dangerous product without warning consumers, there is a possibility of recovering punitive damages. These are damages to punish the defendant and deter similar actions in the future.
Consult an Experienced Shingles Vaccine Lawyer
As an elderly person, you may have more difficulty healing from injuries or viruses than a young person does, which makes harm caused by a medical product disturbing. If you were harmed because of a shingles vaccine, the experienced team at Moll Law Group can investigate the circumstances and explore whether you have a basis to bring a lawsuit. Our shingles vaccine attorneys pursue claims in states such as Illinois, California, Florida, New York, Michigan, Ohio, Pennsylvania, and Texas. Call us at 312-462-1700 or contact us by completing our online form to set up a free appointment with a product liability lawyer.