Phenylephrine
Seasoned Chicago-based Product Liability Attorneys for Claims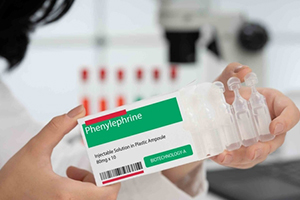 Phenylephrine is in the class of nasal decongestants, which are taken to obtain temporary relief of cold, flu, sinusitis, bronchitis and allergy symptoms. It works to reduce stuffy nose and sinus problems be reducing swelling in the nasal passage and ears, which is meant to reduce the discomfort of symptoms and also make breathing easier. Manufacturers have used phenylephrine in popular decongestants like Vicks Nyquil, Sudafed PE, and Benadryl Allergy Plus Congestion for years. However, the Food and Drug Administration (FDA) convened an advisory panel in 2023 that determined phenylephrine doesn't work. The trustworthy Chicago product liability lawyers of Moll Law Group have filed a nationwide class action lawsuit against the manufacturers of over-the-counter cold and allergy medications, such as Nyquil, Benadryl, Sudafed and Mucinex. Contact us if you believe you have a claim. Billions have been recovered in product liability lawsuits with which our attorneys have been involved.
Efficacy of Phenylephrine
Phenylephrine bitartrate has been classified as "Generally Recognized as Safe and Effective" (GRASE). For many years, however, Florida pharmacy professors have argued that it is not effective as a decongestant and was no more effective than a placebo; in 2007, Leslie Hendeles and other academics submitted a citizen petition to the FDA that the drug wasn't effective. The petition asked the Agency to amend the dosage of oral phenylephrine salts by upping the maximum dosage for patients that were 12 or over and withdraw the approval for use in children who were under that age.
Three large clinical trials have been performed since the 2007 petition and meeting. The FDA has continued to reevaluate whether science supports the use of the decongestant and eventually compiled a substantial review of all the clinical data available. This included data that wasn't available when the drug was initially classified as GRASE.
The FDA sometimes convenes advisory committees before it renders a final decision about a particular pharmaceutical. In 2023, after years of study, it convened an advisory committee to discuss whether there is adequate data to show that orally administered phenylephrine was effective. The committee was also gathered to determine whether the drug should be reclassified as not GRASE because it's not effective.
The FDA report initially determined that orally administered phenylephrine isn't effective as a nasal decongestant according to the effective standard to be applied for over-the-counter drugs generally recognized as safe and effective. 21 CFR § 330.10(a)(4)(ii) defines effectiveness as the reasonable expectation that in a notable proportion of a target population, the pharmacological effectiveness of a drug used with sufficient directions and warnings will offer clinically significant relief of the sort that its marketing claims.
The FDA determined that the monographed dosage of 10 mg of the drug every 4 hours, or at doses of a maximum of 40 mg given every 4 hours were not adequate to meet this definition, given the scientific data acquired in the three studies. The FDA didn't find safety issues with the drug when orally administered, and its findings didn't extend beyond oral administration of the medication.
The advisory committee considered the review and voted to remove the GRASE designation. The FDA for its part identified benefits of changing the designation including avoiding unnecessary expense of taking a drug without benefit, avoiding dangers of allergic responses or side effects related to using the drug in combination with other pharmaceuticals, and lowering healthcare costs. The agency found that consumers will need education to figure out appropriate alternative treatments and plans to work with manufacturers to figure out reformulations of their drugs.
Liability for Dangerous Drugs
When a pharmaceutical is determined to be dangerously defective such that it causes injuries, it may be appropriate for consumers to bring a product liability lawsuit to recover damages. Drugs can be found defective in terms of their marketing, manufacturing, or design and formulation. Most marketing defects involve failure to warn; this type of claim may be pursued where a drug manufacturer fails to provide adequate warnings about the dangers of using a particular pharmaceutical.
Theories of liability our lawyers may be able to use to recover damages in case of a defective drug depend on applicable state laws, but usually include strict liability, negligence, breach of contract, and breach of warranty. Damages that can recovered when our attorneys establish liability include medical losses, out-of-pocket costs, lost wages, and replacement services.
Consult a Seasoned Dangerous Drugs Attorney
Moll Law Group has filed a nationwide class action lawsuit against the makers of over-the-counter decongestants. Call the seasoned Chicago-based dangerous drugs attorneys of Moll Law Group if you have a claim. Billions of dollars have been recovered in product liability cases with which we've been involved. Call our lawyers at 312.462.1700 or complete our online form to arrange a free consultation.