Stevens Johnson Syndrome / Toxic Epidermal Necrolysis
Attorneys Experienced in Product Liability and Medical Malpractice Lawsuits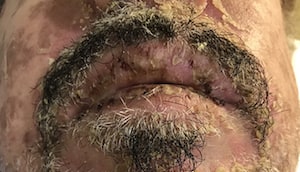 Stevens Johnson Syndrome is a rare but very serious skin disorder that can develop in response to a medication. While it may start with symptoms similar to the flu, it is followed by a painful red or purple rash that spreads. After blisters develop, the top layer of the skin sloughs off. Often, a person afflicted with Stevens Johnson Syndrome must be hospitalized, and recovery can take weeks or even months. Hospitalization and treatment may be expensive. When Stevens Johnson Syndrome is caused by a defective drug, it may be possible to recover damages. At Moll Law Group, our Stevens Johnson Syndrome lawyers may be able to represent you in a product liability lawsuit. Billions have been recovered in lawsuits in which we have been involved.
Understanding the Impact of Stevens Johnson Syndrome
Stevens Johnson Syndrome is a less severe version of Toxic Epidermal Necrolysis, in which more than 30% of the skin becomes infected. If you have developed Stevens Johnson Syndrome, it is an emergency. Medications must be stopped right away, especially if they are associated with the syndrome. Stopping the medications and providing a diagnosis right away can reduce the amount of skin damage that occurs. However, once damage is done to more than 10% of the body's surface area, it is likely that catastrophic injuries or death will result. Permanent injuries that can arise from Stevens Johnson Syndrome include scarring, chronic pain, loss of teeth, blindness, and organ damage to the kidneys, heart, or lungs.
Around 5% of patients who develop Stevens Johnson Syndrome and up to 30% of patients who develop Toxic Epidermal Necrolysis die due to complications of these conditions. Complications include sepsis, kidney failure, myocarditis, pneumonitis, blindness, and hematuria. These complications may become fatal and kill a patient.
Often, the reason why a person develops Stevens Johnson Syndrome (or Toxic Epidermal Necrolysis) is in response to a medication. Our Stevens Johnson Syndrome attorneys have found that the pharmaceuticals that are commonly correlated with Stevens Johnson Syndrome and Toxic Epidermal Necrolysis are Lamictal, Depakote, Dilantin, Tegretol, Penicillin, Ampicillin, Amoxicillin, Bactrim, Tetracycline, Accutane, NSAIDs, Phenobarbital, Cox-2 inhibitors, Allopurinal, Lenalidomide, herbal ginseng-based supplements, and Tylenol. People with compromised immune systems, such as those with HIV, are at particular risk.
If you or a loved one developed Stevens-Johnson Syndrome or Toxic Epidermal Necrolysis because of a dangerous drug, you may be able to recover compensation through a product liability lawsuit. Generally, to recover damages based on product liability, your Stevens Johnson Syndrome lawyer will need to show a marketing defect, manufacturing defect, or design defect. For example, you should have been given warnings about Stevens Johnson Syndrome if you were taking any of the drugs that are associated with developing it. If you were not given warnings, or the warnings were inadequate, there may be a marketing defect. In some jurisdictions, it is possible to hold a drug manufacturer strictly liable for a failure to warn, while in others, it may be necessary to show negligence.
There may also be certain situations in which doctors do not diagnose and treat Stevens Johnson Syndrome in a timely fashion. A quick diagnosis and cessation of medication can make a difference as to the severity of the injuries suffered. In the case of a doctor who does not diagnose Stevens Johnson Syndrome quickly enough, we would look at whether the doctor's actions deviated from the professional standard of care. When a doctor's care falls below the professional standard of care, causing injuries such as those that arise from Stevens Johnson Syndrome, it may be appropriate to pursue a medical malpractice lawsuit.
Consult a Stevens Johnson Syndrome Attorney About Your Potential Claim
If you were injured or a loved one suffered a wrongful death due to Stevens Johnson Syndrome, the experienced attorneys at Moll Law Group can examine the facts of your situation and evaluate whether you may have a viable claim. Our law firm pursues remedies for injured consumers and patients across the country. We serve people in states such as Illinois, California, Florida, New York, Texas, Pennsylvania, Ohio, and Michigan. You can call us at 312-462-1700 or complete our online form.