Tylenol
National Lawyers for Tylenol Autism Lawsuits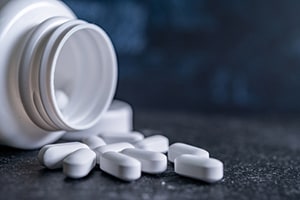 Tylenol, also known by its generic name Acetaminophen, is one of the most popular over the counter medications for high fevers and pain relief. Unfortunately, it's also a drug that has been linked to an increased risk of autism in children when a mother takes the over-the-counter drug during her pregnancy. If your child was harmed by Tylenol taken by a mother while he or she was in utero, you should call the trustworthy nationwide dangerous drugs lawyers of Moll Law Group. We represent clients across the country. Billions have been recovered in cases with which we've been involved.
Call Moll Law Group About a Tylenol Autism Lawsuit
Prior research showed that Acetaminophen was safe for pregnant women to use. However, new studies show children have a higher risk for neurological or developmental conditions when they take Tylenol or Acetaminophen. In one study, researchers found that cord blood samples and core plasma markers of fetal exposure to Acetaminophen had a higher ADHD diagnosis risk.
Roughly 50 million American consumers use Acetaminophen-containing products every week. More than 25 billion doses are used every year. Lawsuits have been filed against manufacturers and distributors of Acetaminophen by women along with their children who developed disorders as a result. A range of neurological disorders associated with consumption of Acetaminophen included cerebral palsy, ADHD, lowered executive function, conduct disorder, language delay, oppositional defiant disorder, and autism.
Defendants in the suits include both Johnson & Johnson and generic manufacturers, along with major retailers. Plaintiffs have sued them on the grounds that they failed to warn of risks. Lawsuits have also been filed against Walgreens, CVS, and manufacturers of acetaminophen-based drugs. If you or a loved one used Tylenol or Acetaminophen during pregnancy and your child developed autism, you may be eligible to file a suit as well.
Liability for Dangerous Drugs
In most cases, drug manufacturers wield substantial resources to fight you and other consumers. They may delay or try to withhold evidence under the available rules. Therefore, it is crucial to retain a seasoned dangerous drugs attorney to counsel and represent you.
While Tylenol and Acetaminophen are used by many, yet not well-understood in terms of how the drug reduces fever or relieves pain. Even so, it's been marketed to pregnant women as the safest pain reliever during pregnancy, and it is used by more pregnant women than other over-the-counter drugs are. Tylenol autism lawsuits have been consolidated in federal court into a single court for pretrial proceedings.
Proving Your Case
If we work with you as your attorneys, we will need to put together evidence to build your case to recover damages. We'll need to show that you took a Tylenol or a generic Acetaminophen-based drug while pregnant, and that your child was afterwards diagnosed with autism. Evidence we may be able to gather includes medical records, receipts for buying Acetaminophen, records from a therapist or psychiatrist, medical records showing your child was diagnosed with autism, and notes from doctors about using Tylenol during your pregnancy.
We'll need to show that the Tylenol or acetaminophen-based drug taken during pregnant was defective. Drugs may be dangerously defective in terms of their manufacturing, design, or marketing. In this case, it appears that the dominant defect associated with Tylenol taking in pregnancy is failure to warn, which is a marketing defect.
Damages we may be able to recover on behalf of you and your child if we can demonstrate liability by a preponderance of the evidence could include medical bills, costs, pain and suffering, lost wages, lost earning capacity, loss of enjoyment of life and permanent disability.
Call Our National Dangerous Drug Lawyers
If you believe your child was injured by Tylenol to which he or she was exposed while in utero, you should call the seasoned nationwide dangerous drug lawyers of Moll Law Group about whether you have grounds to sue. Our firm represents parents and children around the country, and billions have been recovered in product liability lawsuits with which we've been involved. Please complete our online form or call us at 312.462.1700.