HIV Medications
Product Liability Lawyers Representing Victims of Dangerous Drugs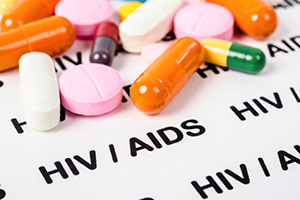 If you are on an HIV medication, you may assume that the medication is safe to use. However, litigation has commenced against the biotech company Gilead Sciences, Inc. in connection with its HIV medications that incorporate tenofovir disoproxil fumurate. These drugs are connected to serious side effects like fractures, bone density loss, and chronic kidney disease. If you believe that you suffered harm due to an HIV medication, you should consult the experienced HIV medication injury lawyers at Moll Law Group. Billions of dollars have been recovered in lawsuits with which we have been involved.
HIV Medications
Gilead Sciences is the leading HIV medication manufacturer. It manufactures tenofovir disoproxil fumarate, as well as anti-retroviral drugs, which are used as HIV treatment. It owns about 80% of the anti-retroviral drug market. Lawsuits have been filed against Gilead, alleging that it knew about the dangerous side effects as far back as 2001, but it slowed development of or withheld an alternative drug, tenofovir alafenamide fumarate (TAF), which was a safer drug, until 2015. There are allegations that Gilead intentionally held back TAF drugs from the market for more than 10 years until the patents on the TDF drugs were about to expire to shield its monopoly, even though Gilead knew that the TAF drugs were safer. TAF is in Vemlidy, Biktarvy, Odefsey, Descovy, and Genvoya, and it was allegedly put through clinical trials in 2002, but it was not released until 2015. The safer, lower dose of tenofovir in TAF is believed to lower the risk of bone and kidney injuries.
Liability for HIV Medications
If you were injured by an HIV drug, an HIV medication injury attorney may be able to hold the manufacturers accountable through a product liability lawsuit. Product liability lawsuits can be brought when there are manufacturing, design, or marketing defects. Manufacturing defects may exist when there are deviations from the formula that makes up the medication. A design defect may exist when the formula makes the medication unreasonably dangerous. Marketing defects often involve failures to warn. Liability may be established through theories of strict liability or negligence. When strict liability applies, it may be possible to hold a manufacturer responsible for a defect if you can show that the defect caused injuries, even if the manufacturer behaved reasonably.
The allegations against HIV medication manufacturers include failures to rectify a known design defect in the drug formulation of tenofovir disoproxil fumarate, failures to warn patients about its damaging side effects, and active misrepresentations of how effective tenofovir disoproxil fumarate is, as well as its substantial risks.
If liability can be established in a dangerous drug case, it may be possible to recover compensatory damages. Economic damages may include medical bills, medical equipment, pharmaceuticals, lost wages, and replacement services. For example, if you developed chronic kidney disease due to an HIV medication, you would probably face significant medical bills, but you may be able to recover those costs with the assistance of an HIV medication injury lawyer. You also would be able to recover non-economic losses, which might include pain and suffering, loss of consortium, and mental anguish. Although compensatory damages are the main type of damages in the majority of product liability lawsuits, there are situations in which a manufacturer's conduct is so egregious that it may be possible to recover punitive damages. Punitive damages are damages awarded to punish the wrongdoer and deter future wrongdoers. These damages are often awarded when the defendant's underlying conduct that caused the harm was outrageous, willful, and wanton, or committed with fraud, actual malice, deliberate violence, or gross negligence.
Retain a Knowledgeable HIV Medication Injury Attorney
If you were harmed by an HIV medication, you may be able to sue the manufacturer for compensation. Moll Law Group is a Chicago-based product liability firm. Its seasoned attorneys understand the allegations in the HIV medication lawsuits and are ready to advise and represent you. Call us at 312.462.1700 or contact us online for a free consultation.