Gardasil
Chicago Lawyers for Gardasil Claims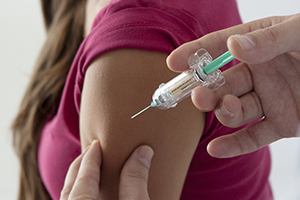 Gardasil is a vaccine made by Merck & Co. against human papillomavirus (HPV), which can result in cervical cancer in women. The manufacturer received FDA approval for Gardasil in 2006, but unfortunately, there are problems with this particular vaccine. Many parents vaccinated their pre-teen daughters with Gardasil. If you suffered injuries or illness because of Gardasil, you should discuss your situation with the seasoned Chicago product liability attorneys of Moll Law Group.
Call Moll Law Group
It is important to seek legal advice if you believe there may be a link between Gardasil and your health problems. Gardasil can increase the chances of autoimmune diseases and many other health complications such as fibromyalgia and neuropathy. While it was marketed to prevent cervical cancer, it has been connected to premature ovarian failure. If you or your daughter received Gardasil and developed ovarian failure and infertility, our lawyers may be able to talk you through your legal options and represent you.
The Merck vaccine went through the fast-track process with the FDA soon after problems with Vioxx. It was believed that this would be the vaccine or drug that helped the company financially.
Many people have HPV—it is the most common STD. Genital HPV is easily transmitted via sexual contact. A significant percentage of adults do develop HPV infections and many left undetected with few or no symptoms. Others cause warts. In some cases, HPV contributes to cervical cancer.
Unfortunately, the company may not have conducted sufficient research in its efforts to make up for Vioxx.
Recently, plaintiffs filed a motion requesting a new multidistrict litigation for Gardasil. If granted this would consolidate current and future HPV lawsuits, of which there are already many, that allege health complications from Gardasil's HPV vaccine. Most of these lawsuits allege that the HPV vaccine caused their autoimmune or neurological disorders because the manufacturer didn't research the vaccine before putting it into the market. Some are known to cause genital warts.
Certain strains of HPV are high risk and lead to cervical cancer, which is typically identified through Pap smear examinations, along with anal and penis cancers. Before Gardasil was manufactured there was little demand for HPV, but before releasing the vaccine, the company attempted to make people more cognizant of HPV to drum up business. The company's expensive advertising also overstated how effective the Gardasil vaccine was.
Below is a list with potential injuries associated with the Gardasil Vaccine:
Auto-immune Disorders

Blood Clots

Chronic Fatigue Syndromes

Chronic Pain Syndromes, including Chronic Regional Pain Syndrome (CRPS)

Death

Dysautonomia

Fibromyalgia

Guillain-Barre Syndrome

Hepatitis- Autoimmune

Idiopathic Thrombocytopenic Purpura (ITP)

Joint Pain

Lupus

Movement Disorders

Multiple Sclerosisor a demyelinating condition

Myalgic Encephalomyelitis / Chronic Fatigue Syndrome ME/CFS

Orthostatic Intolerance (OI)

Neurological Disorders

Postural Orthostatic Tachycardia Syndrome (POTS)

Reproductive Disorders, including Premature Ovarian Failure (POF)

Small Fiber Neuropathy

Severe Allergic Reaction



Ability of Gardasil Lawsuits to Proceed
If you were harmed by Gardasil, you may be able to obtain damages from the manufacturer. The allegations go beyond those of a garden variety product liability lawsuit. The claims can include negligence, manufacturing defects, and failure to warn, but in the case of Gardasil, they also include fraud claims. Vaccine manufacturers cannot be sued for specific types of claims such as design defects in vaccine because vaccines are necessary, and manufacturers need to be encouraged to develop them. However, as a result, manufacturers also sometimes escape liability. This makes it especially important to consult an attorney.
Merck filed a motion to dismiss to the Gardasil litigation based on the bar on design defect and failure to warn claims found in the Vaccine Act, but the motion was dismissed without prejudice and certain other types of claims, such as those pursued under a theory of negligence, can proceed. With negligence claims, lawyers must establish the standard of care.
Consult a Seasoned Product Liability Lawyer
If you were harmed by Gardasil, you should call the seasoned Chicago-based product liability lawyers of Moll Law Group. We represent injured people and their families around the country. Please complete our online form or give us a call at 312.462.1700.