Tasigna Side Effects
Defective Drug Lawyers Representing Victims Nationwide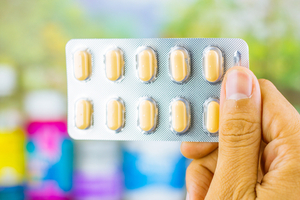 Tasigna is a drug manufactured by Novartis that is prescribed to treat Philadelphia chromosome–positive chronic myeloid leukemia (CML). Philadelphia chromosome–positive chronic myeloid leukemia is a cancer of the bone marrow, in which the body produces too many white blood cells. The drug works by blocking proteins that permit the growth of cancer cells. However, there have been connections made between Tasigna and atherosclerosis. Atherosclerosis is a serious disease involving the build-up of plaque inside a patient's arteries. At Moll Law Group, our Tasigna lawyers may be able to evaluate whether you have a products liability claim if you have experienced serious Tasigna side effects, such as the development of atherosclerosis.
Dangerous Side Effects of Tasigna
Tasigna is a tyrosine kinase inhibitor with the generic name of nilotinib. Tyrosine kinases are proteins that can stimulate the growth of leukemia cells, and Tasigna was designed to inhibit a specific protein and thereby stop this growth. Tasigna was first approved by the Food and Drug Administration (FDA) to treat chromosome-positive chronic myelogenous leukemia, and it was developed as a replacement for another cancer treatment, Gleevec, whose patent had expired in 2015. Tasigna's manufacturer, Novartis, has hoped to expand the use of Tasigna to treat Alzheimer's and Parkinson's.
Tasigna has a long list of common side effects that include fever, vomiting, itching, coughing, diarrhea, nausea, headaches, night sweats, constipation, muscle and joint pain, and fatigue. However, there are also some very serious side effects, such as pancreas inflammation, decreased blood flow, low blood count, brain bleeds, Tumor Lysis Syndrome, QT prolongation that can result in death, and atherosclerosis.
Atherosclerosis is a life-threatening disease that occurs when plaque builds up and hardens, narrowing the arterial pathways. Blood flow becomes limited due to this narrowing, and the result may be other diseases or death. In 2011, researchers found a link between Tasigna and atherosclerosis, and other studies found that it was associated with an acceleration in atherosclerosis. Our Tasigna attorneys are familiar with this research.
Even if a drug has been approved by the FDA, it may cause serious injuries. According to an announcement put out by Novartis Pharmaceuticals Canada, in a review of the Novartis global safety database between 2005 and 2013, there were 277 instances in which a patient taking Tasigna developed atherosclerosis. In response to this finding, safety information was put into the reference document for doctors in Canada. While the drug's warning label was updated in this country to show the risk of atherosclerosis, a formal FDA warning was not issued, and many health care providers were left unaware of this new risk.
If you develop atherosclerosis or another serious side effect as a result of Tasigna, you may have a basis to file a product liability lawsuit. Product liability lawsuits may be predicated on three different defects. These are design, marketing, and manufacturing defects. In many dangerous drug cases, the primary claim is a failure to warn.
In most jurisdictions, a victim may be able to hold a drug manufacturer that fails to provide adequate warnings strictly liable. In a strict liability lawsuit, a Tasigna lawyer does not need to show that the manufacturer owed a duty of care and deviated from that duty. Instead, they will need to show an actionable defect like failure to warn, causation, and damages.
Generally, a drug manufacturer discharges the duty to warn about a dangerous drug by providing a warning to doctors under the learned intermediary theory. The doctor is considered to be in a better position to evaluate whether the risks of taking a particular drug are worthwhile because of the benefits to the patient.
Compensation that you may be able to recover if you establish liability accounts for any economic or noneconomic losses arising from the failure to warn or other product defect. These damages may include medical bills, lost wages, pain and suffering, mental anguish, and loss of consortium. If a loved one died as a result of Tasigna-triggered atherosclerosis, you may be able to recover wrongful death damages.
Consult a Tasigna Attorney About Your Potential Claim
If you were injured or a loved one suffered a wrongful death due to Tasigna side effects, the lawyers at Moll Law Group can examine the facts of your situation and evaluate whether there may be a viable claim. Our law firm pursues remedies for injured consumers all over the country, serving people in states such as California, Florida, New York, Illinois, Texas, Pennsylvania, Ohio, and Michigan. You can call us at 312-462-1700 or contact us by completing our online form. We also assist victims of other dangerous pharmaceuticals, such as proton pump inhibitors, birth defect drugs, diabetes drugs, and opioids.