Ozempic and Mounjaro
Seasoned Chicago-based Lawyers for Ozempic and Mounjaro Claims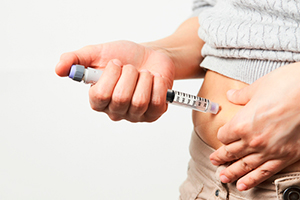 Ozempic and Mounjaro are drugs used to treat adult type 2 diabetes patients. They are dispensed to patients in the form of disposable pens filled with liquid medication whose active ingredient is semaglutide, and it is then injected beneath the skin to control blood sugar. Unfortunately, these diabetes drugs have been prescribed "off-label" as a weight loss drug and are now linked to many thousands of adverse events, including acute medical conditions. If you or a loved one were injured by Ozempic or Mounjaro, you should call the trustworthy Chicago-based dangerous drug attorneys of Moll Law Group. We have years of experience and represent clients nationwide. Billions have been recovered in lawsuits with which we've been involved.
Liability in an Ozempic and Mounjaro Lawsuit
Medical problems that have been linked to Ozempic and Mounjaro include thyroid tumors, pancreatitis, vision changes, kidney failure and other kidney problems, gallbladder issues and cancer. It is believed that Ozempic increases the possibility that a patient will develop gallstones or another acute gallbladder disease. Because of risks found in clinical trials, the drug carries an FDA boxed warning that it could trigger thyroid tumors. Notwithstanding known risks, doctors have prescribed Ozempic and Mounjaro off-label.
There have also been new allegations that patients suffered from gastroparesis or stomach paralysis as a result of using Ozempic or Mounjaro and that doctors failed to warn of the risk of serious gastrointestinal events. Stomach paralysis, also known as gastroparesis, is a condition that causes food to progress too slowly through the stomach or stop moving in the intestine, and involves symptoms like weight loss, malnutrition, abdominal pain, dehydration, acid reflux, nausea, bloating, and vomiting. There are also investigations into whether other GLP-1 agonist drugs in the same class as Ozempic such as Wegovy are associated with gastroparesis.
Many lawsuits, including a class action suit, have been filed against the manufacturers of Ozempic and Mounjaro, Novo Nordisk and Eli Lilly and Co. When a patient is injured as the result of a drug that has defects in its formulation, its manufacturing, or its marketing, it is appropriate to hold the manufacturer accountable for the harms that result by filing a product liability lawsuit. Generally, manufacturing defects are found only in a few units of the product or a single batch. Design or formulation defects, on the other hand, are in every unit—these are flaws in the specifications used to make the product. Marketing defects are flaws in how the drug is marketed to the public; frequently, the marketing defect at issue in these cases is failure to warn.
Liability may be established under a range of theories, depending on the state in which the lawsuit is brought. Theories that may be asserted include strict liability, negligence, breach of warranty, and breach of contract.
Learned Intermediary Doctrine
Different states follow a range of rules about who should be notified in case it's discovered that a drug is dangerous. One of the potentially applicable rules is the learned intermediary doctrine. This doctrine provides that a drug maker fulfills its legal obligation if it provides all necessary information about the dangers of the drug to a "learned intermediary." This would be a person or an entity such as doctor who has prescribed the drug, who stands between the patient and the manufacturer. In cases where a doctor has failed to advise a patient of risks related to gallstones, the doctor may also bear some responsibility for his or her professional negligence and may be sued in a medical malpractice lawsuit. It's important to retain a lawyer who understands not only the ins and outs of product liability lawsuits, but also medical malpractice claims.
Call Our Chicago-based Product Liability Attorneys
It can be challenging to suffer serious injuries as a result of a drug that doctors who you trusted prescribed to you. If you suffered injuries or a disease and you believe it was because of Ozempic or Mounjaro, you should contact the trustworthy Chicago-based dangerous drug lawyers of Moll Law Group about whether you have a claim. We represent plaintiffs across the country and may be able to recover economic and noneconomic damages on your behalf. Complete our online form or call us at 312.462.1700.