Xeljanz
Experienced Attorneys Helping Victims of Dangerous Drugs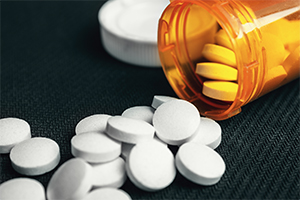 Xeljanz is an arthritis and ulcerative colitis drug manufactured by Pfizer. On February 4, 2021, the U.S. Food and Drug Administration (FDA) issued a Xeljanz safety communication warning. It let health care professionals and patients know that preliminary results from a clinical trial suggested that Xeljanz could increase the risk of serious heart-related events and cancer for users with underlying heart conditions. If you believe that you were harmed by Xeljanz, you may be able to bring a product liability lawsuit. The Xeljanz injury lawyers at Moll Law Group may be able to represent you.
If you sustained blood clots, cardiovascular issues or cancer due to Xeljanz, you may be able to sue for compensation. Call Moll Law Group today at (312) 462-1700 for a FREE consultation.
Xeljanz Concerns
Xeljanz, or Tofacitinib, is a drug that was approved to treat rheumatoid arthritis in 2012. It was the first Janus kinase inhibitor that the FDA approved. Rheumatoid arthritis is an autoimmune disorder that causes joint inflammation. Several years later, the drug was also approved to treat ulcerative colitis at twice the dose. The drug is also approved for treating active psoriatic arthritis and polyarticular course juvenile idiopathic arthritis.
In a postmarketing clinical trial, required by federal regulators, a possible connection between Xeljanz and various health risks was raised. In February 2019, the FDA issued a warning that there was an increased risk of pulmonary embolism and death linked to a dose of 10 mg twice daily, which is the dose approved for ulcerative colitis. A black box warning was added to the medication; this is the strongest label that the FDA allows to be placed on prescription medication. The warning specifies that the initial results of the clinical trial show that there is a higher occurrence of serious heart-related events and cancer in rheumatoid arthritis patients treated with both doses of Tofacitinib, compared to those treated with a TNF inhibitor.
Additionally, Xeljanz patients appeared to be at increased risk for tuberculosis, bacterial and viral infections requiring hospitalization, and invasive fungal infections. Postmarketing studies were ordered following Xeljanz blood clot injuries. These studies' results will influence the FDA's final conclusion.
Doctors are now asked to consider the benefits and risks of Xeljanz when deciding whether to prescribe it or keep patients on it, especially when a patient suffers from an underlying heart condition.
Product Liability Lawsuits
Pfizer has faced lawsuits from Xeljanz patients who have suffered deep vein thrombosis (DVT), pulmonary embolism, stroke, and other blood clot problems. If you have cardiovascular or cancer concerns that you believe are related to Xeljanz, you should talk to an experienced Xeljanz injury attorney about your situation and whether a product liability lawsuit is viable. People who have lost a loved one due to Xeljanz may be able to bring a wrongful death lawsuit for damages.
In a product liability lawsuit, you will need to establish that the product that caused your injuries, such as Xeljanz, had a design, marketing, or manufacturing defect. Most likely, you will need to assert a design or marketing defect. Most marketing defect cases involve a failure to warn of serious risks. A design defect involves a situation in which there is a flaw within the design or formulation of the drug that exists in all the samples of it. We may be able to assert that Pfizer defectively designed Xeljanz, such that it contains serious hazards that could cause harmful side effects and medical problems.
Theories under which relief may be pursued in a product liability lawsuit include negligence and strict liability. Under a strict liability theory, an injury lawyer bringing a Xeljanz claim will simply need to show that there was a defect, the defect caused your injury, and damages arose. We will not need to show that the manufacturer owed a duty of care, what it was, or how the manufacturer breached it. Some evidence shows that Pfizer has long known that Xeljanz is dangerous at high doses, yet it did not warn consumers in the U.S. about the dangers.
The Learned Intermediary Doctrine
Manufacturers owe a duty to provide warnings to consumers about material and foreseeable risks that arise out of the use of their products. However, there is an exception in situations in which a "learned intermediary," like a doctor, prescribes a drug or medical device to the consumer. The learned intermediary doctrine places the ultimate responsibility for warning a patient about the risks and benefits of a drug on a prescribing doctor. In that case, the critical issue may become whether a prescribing doctor provided adequate warnings.
Consult an Experienced Injury Attorney About a Xeljanz Lawsuit
If you sustained cardiovascular issues or cancer due to Xeljanz, you may be able to sue for compensation. The attorneys at Moll Law Group have fought for many people who have sustained injuries because of dangerous drugs. Billions of dollars in compensation have been obtained in lawsuits with which we have been involved. Call us at 312.462.1700 or complete our online form.
Xeljanz Frequently Asked Questions
Q: Is Xeljanz a hazardous drug?
A: The FDA issued an alert warning that people with rheumatoid arthritis who take 10 mg of Xeljanz or Xeljanz XR twice a day face a higher risk of pulmonary embolism, a blood clot in the lungs that can be fatal.

Q: Does Xeljanz weaken immune system?
A: Yes. Xeljanz can lower the ability of your immune system to fight infections.
Q: Can you just stop taking Xeljanz?
A: Patients should not stop or change their dose of Xeljanz without first talking to their healthcare professional.
Q: Can Xeljanz cause blood clots?
A: Xeljanz can cause blood clots in the lungs. One of the severe side effects of taking Xeljanz is a risk of a blood clot in the lungs, also known as a pulmonary embolism.

Q: What are some side effects of taking Xeljanz?
A: Common side effects of Xeljanz are upper respiratory tract infections, headache, diarrhea.
Q: Can Xeljanz cause cancer?
A: Because Xeljanz affects the immune system, it may increase the risk of certain cancers including lymphoma. Taking higher doses of the drug increases the risk.
Q: How long does it take for Xeljanz to start working?
A: Xeljanz does not work right away. It can take about 2 to 8 weeks before patients start feeling better, and it can take 3 to 6 months to feel the maximum effect of this medication.