Opioid Overprescription Lawyers in Chicago
Medical Malpractice Attorneys in the Chicago Area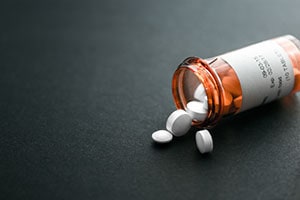 Opioid over-prescription is a serious problem throughout the U.S. Primary doctors often prescribe pain pills for simple back pain. However, some have tied pain pills to the heroin epidemic. Doctors are supposed to use reasonable care to act as other doctors in the same specialty would act under the same circumstances, and they must abide by a professional standard of care. If you were harmed due to an opioid over-prescription, the Chicago medical malpractice lawyers at Moll Law Group can represent you in a lawsuit for compensation.
Harm Caused by Opioid Over-Prescriptions
Opioid addiction is a serious problem. There have been more than 165,000 deaths related to opioid addiction since 1999, and there have been 19,000 deaths due to opioid overdoses. Some experts link this addiction problem to over-prescriptions by doctors. Doctors' prescriptions for such drugs as Vicodin and Oxycontin sometimes far exceed the federal guidelines in place to avoid patient addiction and related problems.
Recently, two plaintiffs won a medical malpractice trial against a doctor and a university hospital. The trial turned on the opioid abuse epidemic. In the case, the defendant doctor and hospital had prescribed a 45-year-old city parks employee who worked in mechanical maintenance more than 37,000 pain pills between 2008 and 2012, in an amount much higher than what is recommended by the Centers for Disease Control and Prevention. The worker went to see his primary care doctor for back pain, and he was put on a dose of opioids that kept increasing. Between 2008 and 2012, he went from 49 mg of opioid medications equivalent to morphine to 1,555 mg per day. This is a massive increase, particularly since CDC guidelines require that no more than an average daily dose of 100 mg of a morphine-equivalent opioid be given. An expert for the plaintiffs stated that these doses were reckless and colossal.
At one point, the worker took Oxycontin, Vicodin, and oxycodone, and after getting addicted, he had to go to a drug rehab center. His relationships with his wife and children were adversely affected by the side effects of pain pills, including depression, and eventually his wife and he started divorce proceedings.
The jury found for the plaintiff, awarding him $1.4 million and awarding his wife $1.2 million. The jury also awarded $15 million in punitive damages, an amount designed to punish the defendants and deter future similar conduct.
In order to recover compensation for medical malpractice related to an opioid over-prescription, you will need to show that your doctor deviated from the professional standard of care. Generally, this means that you will need to retain an expert in the same field as your doctor, and the expert will need to determine what the professional standard of care is and whether the doctor failed to meet it in how they prescribed opioids, as well as whether that failure to meet the standard of care caused the harm that you suffered. The standard of care is the accepted standards and practices that other similar doctors would take when treating a patient who is similar to you. The standard of care may vary depending on the individual features of the patient. For example, the standard of care when a primary care physician treats back pain in a middle-aged man might be different from the standard of care when a spine specialist treats a professional athlete with severe pain arising out of herniated discs.
Each state has its own medical malpractice rules, and in Illinois, a patient has up to two years from the date that they knew or should have known about an injury to sue a health care provider. In Illinois, a patient cannot bring a lawsuit more than four years after a medically negligent action happens.
Hire an Experienced Chicago Attorney for Your Health Care Negligence Case
If you were injured or a loved one died due to an opioid over-prescription, the Chicago lawyers at Moll Law Group can evaluate whether you have a basis to sue the doctor. We pursue claims for patients in Naperville, Schaumburg, Wheaton, and other cities in Cook County and beyond. Call us at 312-462-1700 or contact us online for a free appointment with a medical malpractice or dangerous drug lawyer.