New Developments in Proton Pump Inhibitor Cases
Dangerous Drug Attorneys Advocating for Consumers Nationwide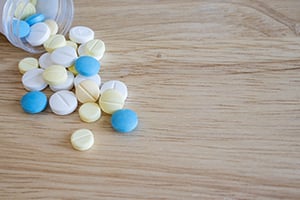 Proton Pump Inhibitor (PPI) medications may increase your risk of developing chronic kidney disease as well as acute interstitial nephritis (AIN). These PPIs are prescribed to treat gastroesophageal reflux disease (GERD) or erosive esophagitis. They work by blocking an enzyme in the stomach wall that produces acid. The resulting reduction of acid allows ulcers located in the stomach, esophagus, and duodenum to heal. Unfortunately, despite the fact that people have been taking PPIs for decades, new research shows that these medications may cause a number of severe side effects, such as chronic kidney disease and acute interstitial nephritis (AIN). Earlier in 2016, a study was published showing that the risk is increased by 20-50%, and the risk increases the longer that you take these medications. The proton pump inhibitor lawyers at Moll Law Group are pursuing litigation against the manufacturers responsible for developing and marketing these products.
Recent Developments in Proton Pump Inhibitor Cases
A Motion to consolidate all of the Proton Pump Inhibitor cases that we are handling has been filed, and responses to this motion are due on November 22, 2016. There will be a hearing held in Miami on January 26, 2017. Within a week of that hearing, there will be a decision about whether to consolidate and before which judge. Our president, Ken Moll, will attend the hearing and give an oral argument to the court for consideration.
One claim against the manufacturers of PPIs is based on their failure to warn consumers. This is a marketing defect cause of action. Manufacturers are required to issue warnings about any serious side effects associated with pharmaceuticals and provide appropriate instructions when marketing a pharmaceutical.
A failure to warn may be based on strict liability or negligence. If a negligence cause of action is asserted, our proton pump inhibitor attorneys will need to establish that the manufacturer failed to use reasonable care to provide appropriate information about a foreseeable risk significant enough to justify the cost of giving the information. However, in a strict liability cause of action, we will only need to prove that there was a defective warning and that it caused the injuries suffered by the plaintiff. The primary issue in either case is whether the warning was adequate.
Compensation likely will be available for our clients if we can successfully establish liability. This may include past and future medical costs, past and future lost wages, pain and suffering, mental anguish, loss of enjoyment, and loss of consortium. The size of a compensation award will vary based on the individual characteristics of the plaintiff and how their life has been affected by the side effects.
Explore Your Options with a Proton Pump Inhibitor Lawyer
If you suffered kidney disease or other side effects due to your use of PPIs, the proton pump inhibitor attorneys at Moll Law Group can represent you in a lawsuit against the manufacturer. We advocate for victims across the U.S., including in states such as Illinois, Michigan, Ohio, Pennsylvania, Texas, New York, Florida, and California. Billions of dollars have been recovered in lawsuits in which we have been involved. Call us at 312-462-1700 or use our online form to set up a free consultation with a Nexium attorney or seek guidance with a claim related to another type of PPI.