AcipHex
CHARLES BOWERS v. ASTRAZENECA PHARMACEUTICALS LP, ET AL.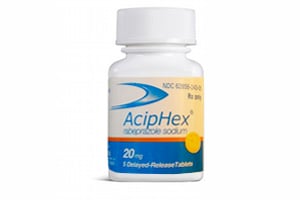 Skilled Proton Pump Inhibitor Lawyers Assisting Consumers Nationwide
The makers of proton pump inhibitor AcipHex (raveprazole sodium) tout its effectiveness in relieving the symptoms of acid reflux disease, heartburn, and related conditions. While AcipHex can be helpful in treating certain medical conditions related to increased stomach acid, it is not without possible side effects and complications. If you or someone close to you has been harmed by AcipHex, raveprazole sodium, or another PPI, you may have a product liability claim. To find out more about your legal rights, it is a good idea to contact a pharmaceutical attorney who is experienced in these types of cases. The assertive and knowledgeable AcipHex attorneys at Moll Law Group have handled a substantial number of product liability lawsuits. Billions of dollars have been recovered in cases in which we have been involved.
Bringing a Product Liability Claim Based on Injuries Caused by AcipHex
AcipHex is manufactured by Eisai, a global pharmaceutical company headquartered in Tokyo, Japan. Like other industry giants, Eisai has thousands of employees and makes billions in revenue. AcipHex is most often prescribed to treat conditions such as duodenal ulcers, gastroesophageal reflux disease (GERD), heartburn, pathological hypersecretory conditions, Zollinger-Ellison syndrome, and other gastronomical ailments. In some patients, it can cause fairly minor side effects like constipation, diarrhea, headaches, and nausea. While none of those is likely to cause permanent harm, recent studies have indicated that other, more serious complications may arise from this drug. Possible long-term injuries may include acute interstitial nephritis, chronic kidney disease, and renal or kidney failure.
People who have been hurt because of a defective product, including a consumer who has suffered complications from AcipHex or another PPI, have the right to seek compensation from those responsible by retaining an AcipHex lawyer. Product liability lawsuits may be based on one or more causes of action, such as negligence, strict liability, and a breach of warranty. For instance, a breach of warranty claim requires privity of contract between the plaintiff and the defendant, whereas a negligence lawsuit may not require proof of a contractual relationship. However, a plaintiff in a negligence claim will need to show that the defendant breached a duty of care owed to consumers and that this breach resulted in the plaintiff's harm. No requirement of a breach applies to strict liability claims, which are based on proving that a manufacturing, design, or marketing defect directly caused the victim's injuries.
Common forms of compensation that may be available to successful plaintiffs in proton pump inhibitor cases include medical expenses, pain and suffering, loss of earning capacity, loss of consortium, and disability. Sometimes a consumer suffers a tragic death because of complications caused by the use of a dangerous drug. When this happens, the victim's family members may bring a wrongful death claim to seek types of compensation that are based on their relationship to the victim. In some cases, punitive damages also may be sought against defendants that have acted in a particularly egregious manner.
Enlist an AcipHex Attorney to Assert Your Legal Rights
If you or a loved one has suffered from acute interstitial nephritis, chronic kidney disease, renal or kidney failure or another serious health condition after taking AcipHex or another PPI, you should talk to a lawyer about the possibility of filing suit against any parties that may have caused your injuries. The AcipHex lawyers at Moll Law Group are here to help guide you through the legal process. Call us at (312) 462-1700 or contact us online to schedule a free and confidential case evaluation with a proton pump inhibitor attorney. We assist injured consumers throughout the U.S., including in California, Texas, Florida, Michigan, Illinois, New York, and Pennsylvania.