Dementia Caused by Proton Pump Inhibitors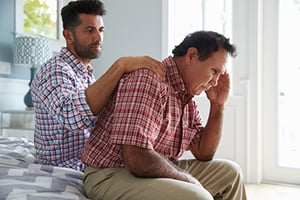 Pharmaceutical Attorneys Representing Injured Consumers Nationwide
A person may be diagnosed with dementia if he or she has experienced a decline in memory or thinking skills that interferes with his or her ability to perform everyday tasks and activities. Sometimes, dementia is caused by an illness such as Alzheimer's disease, but this is not always the case. Recently, a possible link has been discovered between some cases of dementia and a class of drugs known as proton pump inhibitors (PPI), which are used to treat gastronomical conditions such as gastroesophageal reflux disease (GERD), gastritis, ulcers, Zollinger-Ellison syndrome, and various types of esophagitis. If you or someone in your family has taken a proton pump inhibitor and is now experiencing symptoms of dementia, acute interstitial nephritis, chronic kidney disease, and renal or kidney failure the dedicated proton pump inhibitor lawyers at Moll Law Group are available to help you investigate your situation and explore your legal options. Billions of dollars have been recovered in cases in which we have been involved.
Product Liability Claims Based on Dementia Caused by Proton Pump Inhibitors
Dementia is challenging and tragic, whatever the cause. Knowing that it may have been preventable only serves to compound the suffering of the patient and his or her family. Recent studies have indicated that one possible factor in the development of dementia could be the use of proton pump inhibitors, such as Nexium, Prilosec, Prevacid, Protonox, AcipHex, Kapidex, and Dexilant. Additional studies have indicated other possible serious side effects, such as acute interstitial nephritis, chronic kidney disease, and renal or kidney failure.
Consumers who have been hurt because of dangerous or defective products may be entitled to compensation for their injuries. Depending upon the circumstances, possible forms of compensation may include medical expenses, the costs of future treatment, lost wages, and pain and suffering. If a person has died because of a defective product, it may be possible for his or her family to seek damages such as burial costs or lost net earnings through a wrongful death or survival action. State law governs the remedies that may be sought in product liability cases, as well as the time period during which claims may be pursued. Failing to file suit within the statute of limitations or statute of repose is usually fatal to an otherwise valid claim, so it is important to retain a proton pump inhibitor attorney to pursue possible legal remedies in a timely fashion.
Product liability lawsuits often involve multiple defendants, such as the manufacturer, wholesaler, and retailer of the product, and they may be based on several theories of liability. A breach of warranty claim may be appropriate if a consumer who is in privity with the defendant has a reasonable expectation that a product will perform in a certain way or be up to a specific standard that the product does not meet. Breach of warranty claims may be pursued on an express warranty or an implied warranty. Some implied warranties include the implied warranty of merchantability and the implied warranty of fitness.
Tort claims include allegations such as a design defect, which results when a drug is unreasonably dangerous to consumers, or a manufacturing defect, in which a certain batch of a drug was not made properly. There may also be marketing defect theories, arising from a failure to warn of the possible risks associated with a drug's use, or a negligence claim based on harm arising from a manufacturer's failure to exercise the appropriate level of care.
Discuss Your Options with a Proton Pump Inhibitor Lawyer
Dementia is a very serious illness that can devastate a family emotionally and financially. If you believe that your loved one's dementia, acute interstitial nephritis, chronic kidney disease, or renal or kidney failure was caused by his or her use of a PPI, you should talk to an experienced pharmaceutical attorney about pursuing a claim against any and all parties responsible for your loved one's injuries. At Moll Law Group, we assist injured consumers throughout the U.S., including in California, New York, Illinois, Florida, Pennsylvania, Texas, and Michigan. Call our proton pump inhibitor attorneys at (312) 462-1700 or contact us online to set up a free consultation.